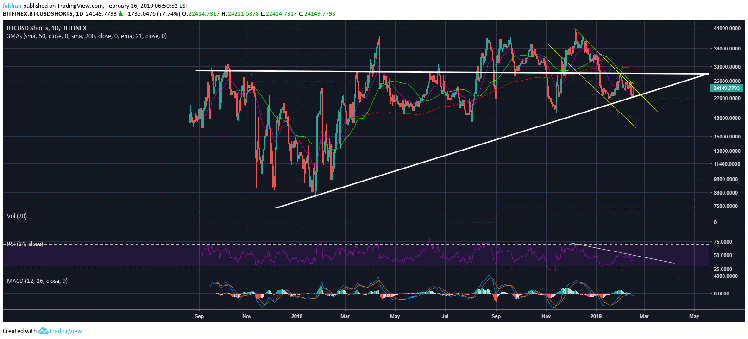 Bitcoin (BTC) is about to make its biggest move in the last 14 months and investors are worried because it will have important implications. There is something interesting going on with Bitcoin Shorts that the mainstream media is deliberately ignoring. Everybody is talking about how the new JP Morgan coin is the end of Bitcoin (BTC) and that it is over for cryptocurrencies now that we have banks issuing their own. Amidst all these useless debates, important developments that would determine the future outlook of BTC/USD for a long time are being ignored. The daily chart for BTCUSDShorts shows that the number of shorts has now fallen back to its trend line support which had not been tested since February, 2018.
The daily chart also shows that BTCUSDShorts is trading within a descending channel and a rising wedge at the same time, both of which are extremely bearish setups. So, the most likely scenario at this point is that BTCUSDShorts will have to break below the rising wedge and continue trading within the descending channel. Considering that this is something that has not happened in more than 14 months, we believe that a break below the trend line support in BTCUSDShorts will shatter the bearish resolve and a lot of bears would close their short positions which would see Bitcoin (BTC) rising towards its previous market structure around $6,000. It is too early to tell if the price will continue to rise past the previous market structure, but we believe panic closing of these shorts or liquidations would be the catalyst that would see BTC/USD rise towards $6,000.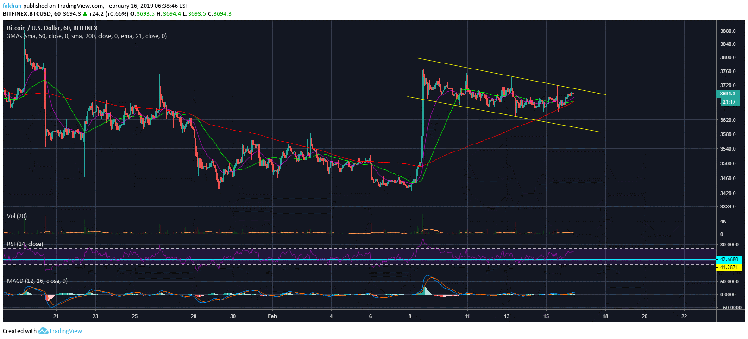 Investors that expect a fall to $3,000 at this point ought to realize that everything is in favor of a massive rally to the upside at this stage. The 1H chart for BTC/USD shows the price trading within a bull flag that could break to the upside anytime now. There is a risk that the crossover of the 50 and 200 moving averages on the 1H chart might lead to short term downside over the weekend. However, this setup still remains very bullish and it should be accepted as such by accumulating at these levels instead of selling. The sentiment right now is extremely bearish and there is not much that could happen at this time that could make things any worse.
In the past few weeks, many professional traders and analysts have mentioned that for the price to bottom, we have to see the mainstream media say "Bitcoin is dead" more often. I think we have finally seen that happen after the JPM coin announcement. I have to say I was shocked to see Barron's publishing an article titled, "JP Morgan Just Killed the Bitcoin Dream" given its credibility and reputation. However, there is a method to this madness. Most of these media outlets answer to larger interest groups that use them to achieve their objectives. This is why it is so important where you get your information from. As long as there are media outlets like Crypto Daily around, investors that are willing to go the extra mile to find the truth will always be able to do so.