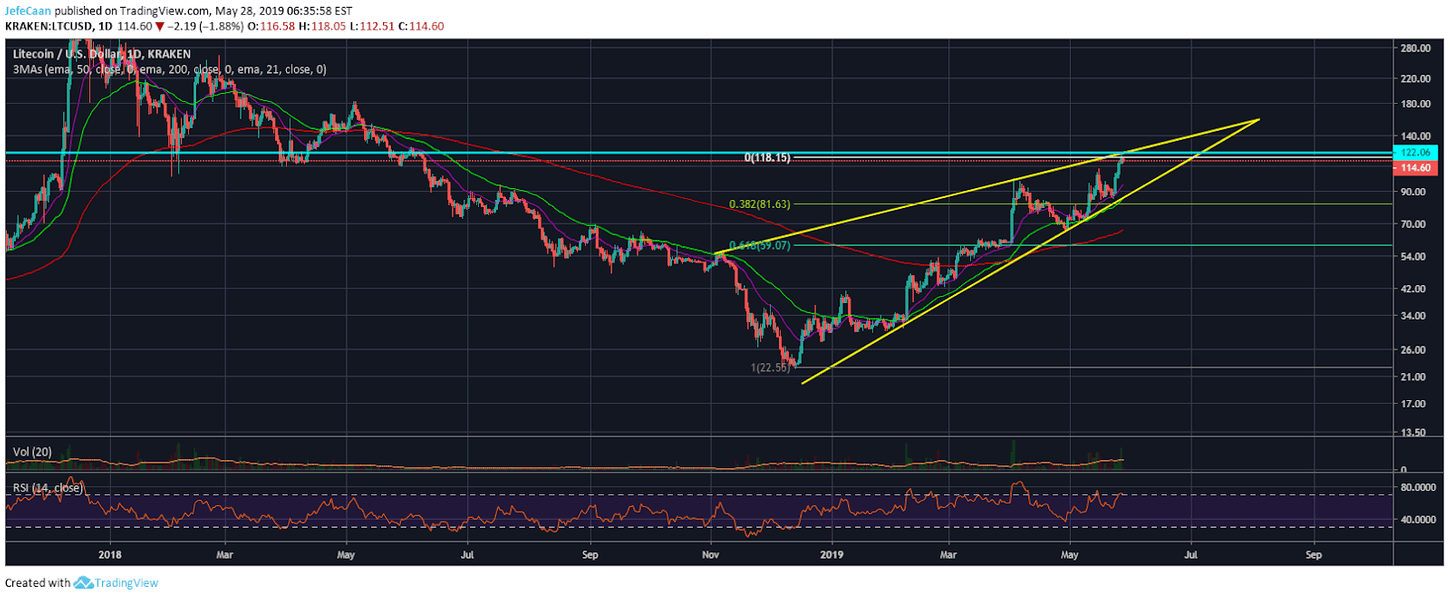 Litecoin (LTC) has retraced after facing a strong rejection at the $122 resistance. This is a very strong level to breach and it is very likely that we will see LTC/USD decline to the bottom of the ascending wedge in the near future. Eventually, we expect LTC/USD to break below this wedge and find support at the 61.8% fib extension level. It could retest the trend line support as resistance after that and might fall further to find its true bottom. The past few weeks have seen Bitcoin (BTC) lead the market during rallies, but we see altcoins crash more during a downtrend. This means that during the next downtrend when BTC/USD find a bottom, altcoins like Litecoin (LTC) will have to fall a lot lower.
We have seen LTC/USD get ahead of the market at times during the recent rallies. The current rally in LTC/USD is now beyond overextended and it is only reasonable to expect a strong pullback from current levels. Sure, Litecoin (LTC) could go up from here after a pullback and rise all the way to $150 or even higher but eventually it is coming back down below $50. Before it falls straight to $50 we might see it find support near $60 and stage a fake rally from there. Litecoin (LTC) like most other Bitcoin (BTC) forks is likely to come under attack sooner or later. This debate around Bitcoin SV and controversies around Bitcoin Cash will bring Litecoin into the debate and the community will begin to ponder at some point if these coins really serve any purpose other than pose as Bitcoin (BTC) alternatives. Litecoin (LTC) has been among the top ten largest coins for a long time and it is hard to see how it could go down from there, but the market today is a lot different than what it used to be.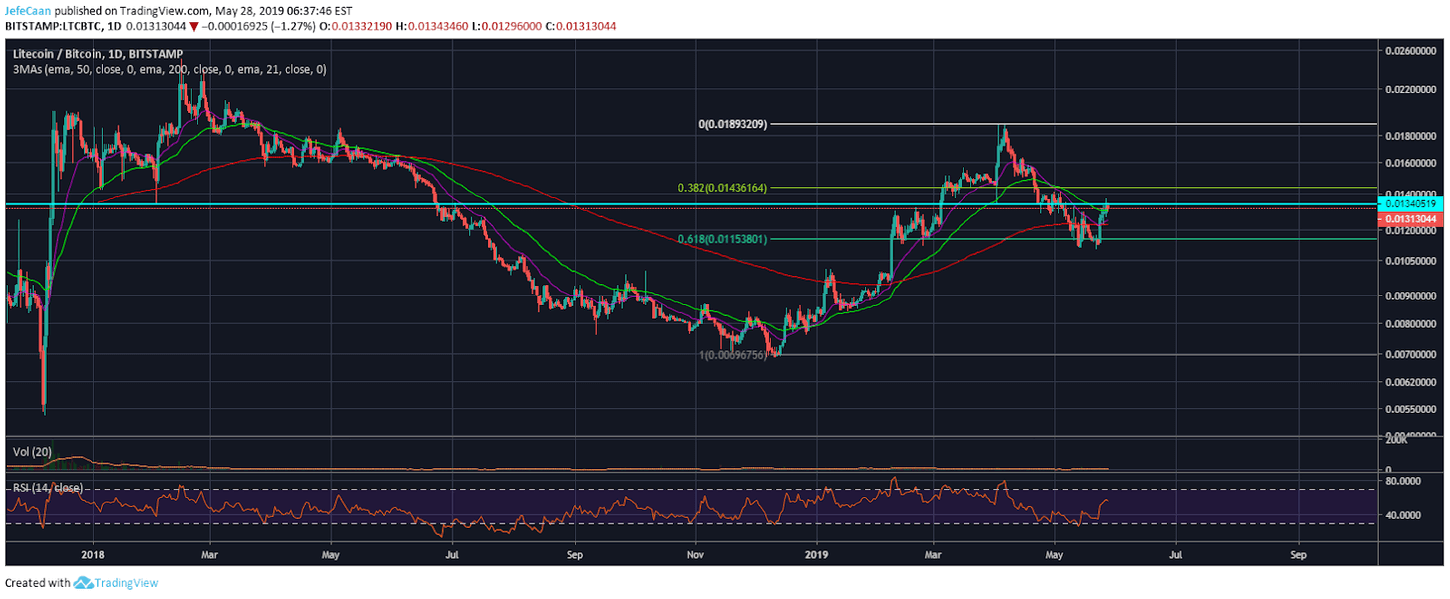 The current wave of bullish euphoria in the market is going to end in a lot more blood which is going to make investors even more cautious in the future. The time to invest in projects with little to no use cases seems to be behind us now. The recent bear market will make a lot of people consider their investments wisely for the next bull run. In the early days, we just had Bitcoin (BTC), Litecoin (LTC), Ripple (XRP) and a few other coins. Now, people have access to different utility and security tokens that they can invest in which could provide additional revenue.
So, interest is going to decline in coins like Litecoin (LTC) eventually. That being said, the FOMO that we see now before Litecoin (LTC)'s next halvening could trap in some more retail bulls before the whales dump on them. Litecoin (LTC)'s founder Charlie Lee already sold most of his coins near the peak of the last bull run. The daily chart for LTC/BTC shows that if Litecoin (LTC) retraces down from current levels, it is likely to erase almost all of its gains it has made against Bitcoin (BTC) during the recent pumps.