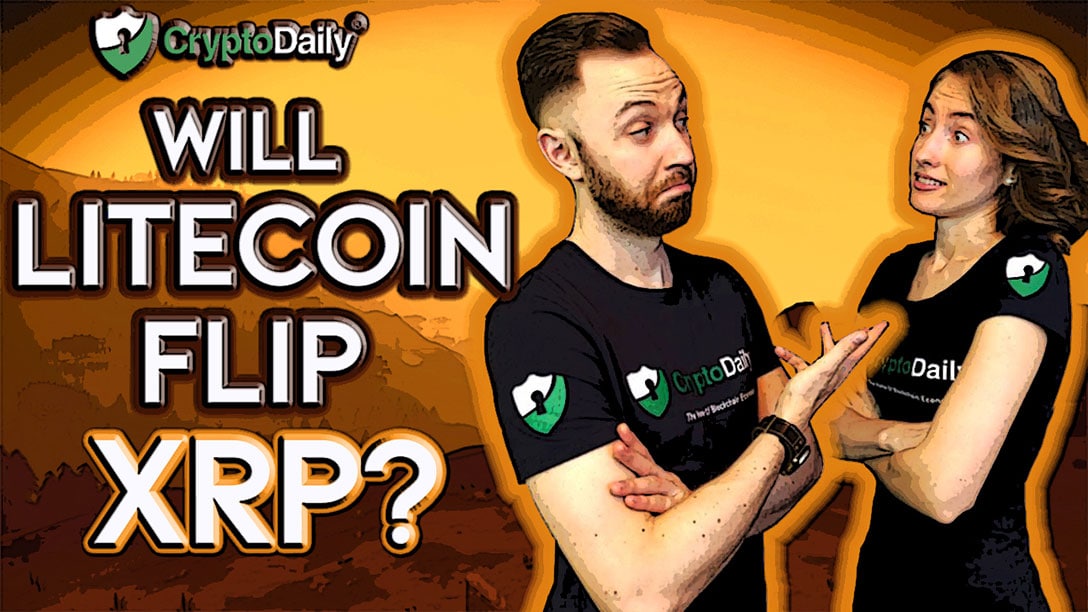 One of the top cryptocurrencies in the world is Litecoin, which has been a top ten cryptocurrency for as long as I can remember. The digital asset has been making gains amongst the upcoming block rewards.
The market cap for Litecoin has surged by more than $2 billion which has seen the back of Bitcoin Cash but as this bullish trend continues, there's one thing that we are wondering which is; what happens if Litecoin flips XRP?
Split in Half
In forty-five days, from the time of writing, Litecoin will go through an experience which will half it. This fixed process will occur on block 1,680,000 and will reduce the rewards miners get for mining a block. In return, the rate of issuance will be reduced.
Miners who are currently being awarded 25 new Litecoin for every block they solve will only be rewarded with 12.5 Litecoin per block following the event.
Charlie Lee, the creator of Litecoin spoke about the block halving last week on Twitter saying:
"Here are some stats on mining profitability. After halving, miners are still profitable with electricity under 10¢. Many are paying only 5¢ and therefore should keep mining LTC post-halving. (https://www.longhash.com/news/f2pool-exclusive-chinese-electricity-for-mining-costs-between-04-to-06-usd-per-kilowatt)"
This date is quickly approaching and Litecoin's market valuation has been rapidly increasing too. This is giving investors to believe that there is something linking the two together.
In December last year, the market was experiencing a low. In fact, it was the lowest low of 2018 and encouraged a lot of investors to get out while they could. During this time Litecoin was trading just over $20 but since then it has surged more than 380 percent.
The @Litecoin $LTC halvening is now approximately less than 2 months away.

In the past 6 months, coupled with a hashrate increase of over 150%, LTC has gained over 380% in USD from a low of $22.32.

Despite the nearly 4x in price, mining profitability is only up by 125%. pic.twitter.com/PbuVz6q5Sb

— Binance Research (@BinanceResearch) June 6, 2019
Whilst the rest of the market was bleeding red on June 19th, Litecoin was trading around $135 fueling investors with hope for the future.
The co-founder and CEO of CryptoCompare, Charles Hayter said that the recent surge could be put down to the upcoming block rewards reduction.
"The halving is acting as a price catalyst."
Litecoin has only had one halving since it was launched at the end of 2011 and that was in August 2015, at a block height of 840,000 dropping the mining reward fifty LTC per block to twenty-five LTC. This is similar behaviour to what is happening now.
After the consolidation phase that lasted over a month from April to May 2015, LTC was trading at just $1.5. The press later broke out near the $9 mark.
This might not sound like a lot today, but you've got to remember this was before the price of cryptocurrencies experienced massive surges at the end of 2017.
Investor Opinion
Litecoin may have seen some decent gains to its market value after it rose in price before the 2015 halving but a lot of investors have seemingly forgotten about that, with some experts thinking higher highs are to come.
The CEO of BitBull Capital, Joe DiPasquale has highlighted that the $120 resistance level could have prevented Litecoin from surging higher but now it has gone past that price point twice, the bullish trend could keep up its momentum.
"With LTC trading around $125, we can expect a steady rise towards $150 with some normal pullbacks along the way."
The popular senior market analyst at eToro, Mati Greenspan believes that Litecoin has been the cryptocurrency to lead the recent bull run in the market. In fact, he goes on to say that it will keep diverging into this bullish side. Under the name, The Crypto Dog on Twitter, Greenspan said:
#Litecoin is in it's own market and will deviate to the more bullish side of things on each macro $crypto move into the halvening.

This is a powerfully easy catalyst to trade, given a little patience.

To me, $LTC / $BTC is a clear buy the dip opportunity to at least .02.

— The Crypto Dog📈 (@TheCryptoDog) June 9, 2019
XRP
With all of this and more in mind, as Litecoin continues to perform well, it could outperform other crypto assets such as XRP.
Litecoin could peak by doubling its price just a few days before the halving event later this year. This could see XRP flipped. As another analyst, Financial Survivalism has said:
$LTCBTC peaked days after $LTC halved in 2015. It proceed to selloff leading up to and following the $BTC halving. I think we will see similar price action in 19-20. If so then #LTCBTC would return to the top of the channel over the next couple months before retesting ~0.011. pic.twitter.com/vXz5KcuE2k

— Financial Survivalism (@Sawcruhteez) June 8, 2019