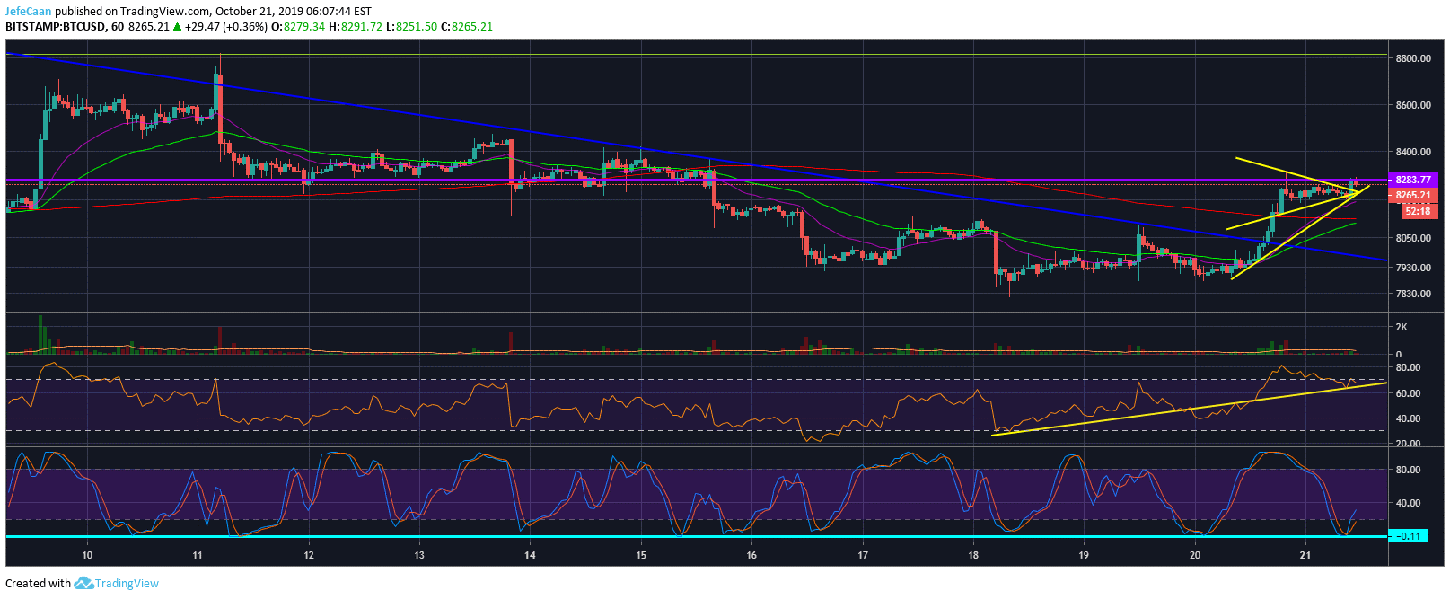 Bitcoin (BTC) surged upwards today and ran straight into a key resistance at $8,283. It faced a rejection there and is now trading sideways. If BTC/USD continues to consolidate in this manner, we might soon see it pierce this key resistance level and then it would be in the clear to shoot towards $8,500 which would coincide with the 200 EMA on the 4H time frame. I expect it to rally higher from there and eventually to break past $10,000 once again to inflict more pain on the bears just before the beginning of a major downtrend. Recent developments not just in the Bitcoin (BTC) market but in the stock and forex markets have convinced me that we could see significant upside near term.

The 1H chart for BTC/USD shows us how the price first invalidated the descending triangle and then entered a symmetrical triangle. This symmetrical triangle was a bullish pennant because the price was rising when it entered this pennant which led to a strong breakout to the upside and now from the symmetrical triangle, the price has entered an ascending triangle. This all happened so beautifully and turned the market from bearish to bullish in a series of fractal transitions. Now if the price continues to remain within this ascending triangle, we would be looking at a major move to the upside. This is in line with the near term outlook of EUR/USD, the S&P 500 (SPX), the Russell 2000 (IWM) as well that of Gold (XAU/USD).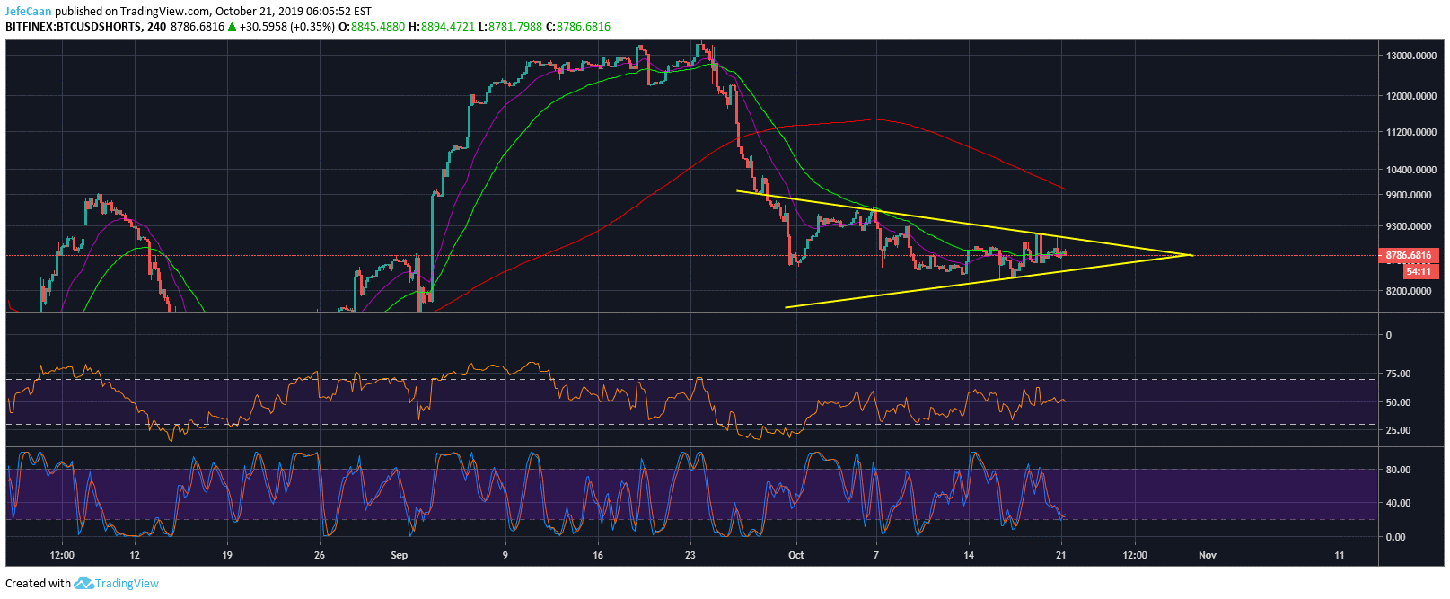 Now that we have talked about a bullish pennant on Bitcoin (BTC), let us talk about a bearish pennant. This pennant can be seen on the 4H chart for BTCUSDShorts. This is a good indicator of what could happen in the market near term. We might see a major move to the upside which liquidate a lot of bearish positions as result of a major short squeeze and that would see BTCUSDShorts break below the bearish pennant seen on the chart. This is a bearish pennant because BTCUSDShorts was falling as it entered the pennant which means it is likely to keep falling as it exits the pennant.
However, please bear in mind that such a break to the downside would only confirm our views. It does not mean that BTCUSDShorts would enter a downtrend. We have seen a similar pennant in Bitcoin (BTC) break to the downside in December, 2018 which was then followed by a strong move to the upside. In my opinion, we might see BTCUSDShorts decline as a result of a near term short squeeze but the number of shorts is expected to keep on rising as the price of Bitcoin (BTC) rises in the weeks and months ahead. This is why it is important to look at breakouts not as just breakouts but as what they denote. Most of these factors and indicators line up to suggest that Bitcoin (BTC) might continue to rally higher from current levels to inflict more pains on the bears before the next downtrend.