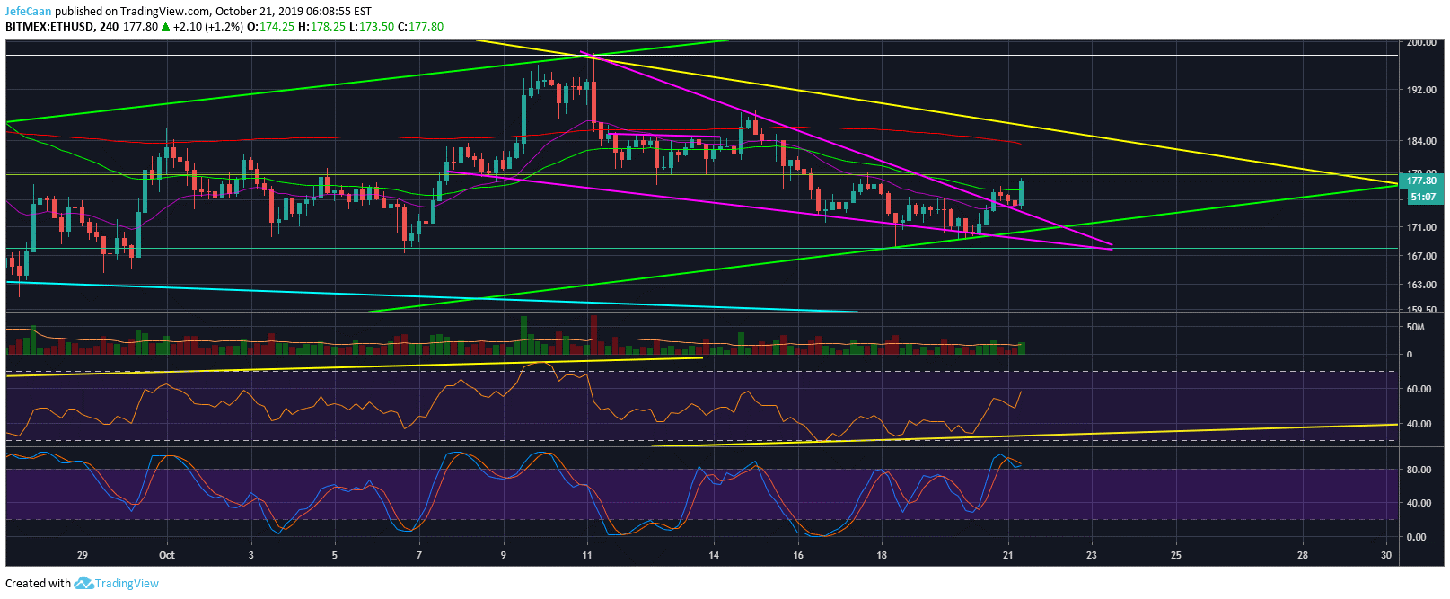 Ethereum (ETH) has just closed the 4H candle above the 50 EMA. This was a consequence of the sharp bounce off the top of the previously broken falling wedge. We can now expect ETH/USD to test the 38.2% fib retracement level near term. However, it is very likely to rally towards $200 soon as it breaks past this level. The 200 EMA on the 4H time frame could pose as resistance just around the long term trend line resistance. It may stop the price temporarily around $187 but it likely to rally towards the top of the ascending channel before the existing move comes to fruition. This means that we could see near term bullishness in the market and the beginning of a new uptrend from this point forward.

It is important not to confuse this uptrend with the long term bearish setup which has yet to come to fruition but will take its time. Near term as we can see the bearish outlook has changed into a bullish outlook after an intermediate period of indecision which had a lot of people betting on the bearish side but they seem to have been proven wrong. In my opinion, the human factor in itself is a very good indicator of predicting market movements. For instance, many traders and analysts who are hardcore bulls recently turned bearish on Crypto Twitter and Tradingview calling for very bearish targets that would see BTC/USD fall down to $6,000 which means ETH/USD would have to decline more aggressively. Certainly, none of that is likely to happen when everyone is expecting it to happen.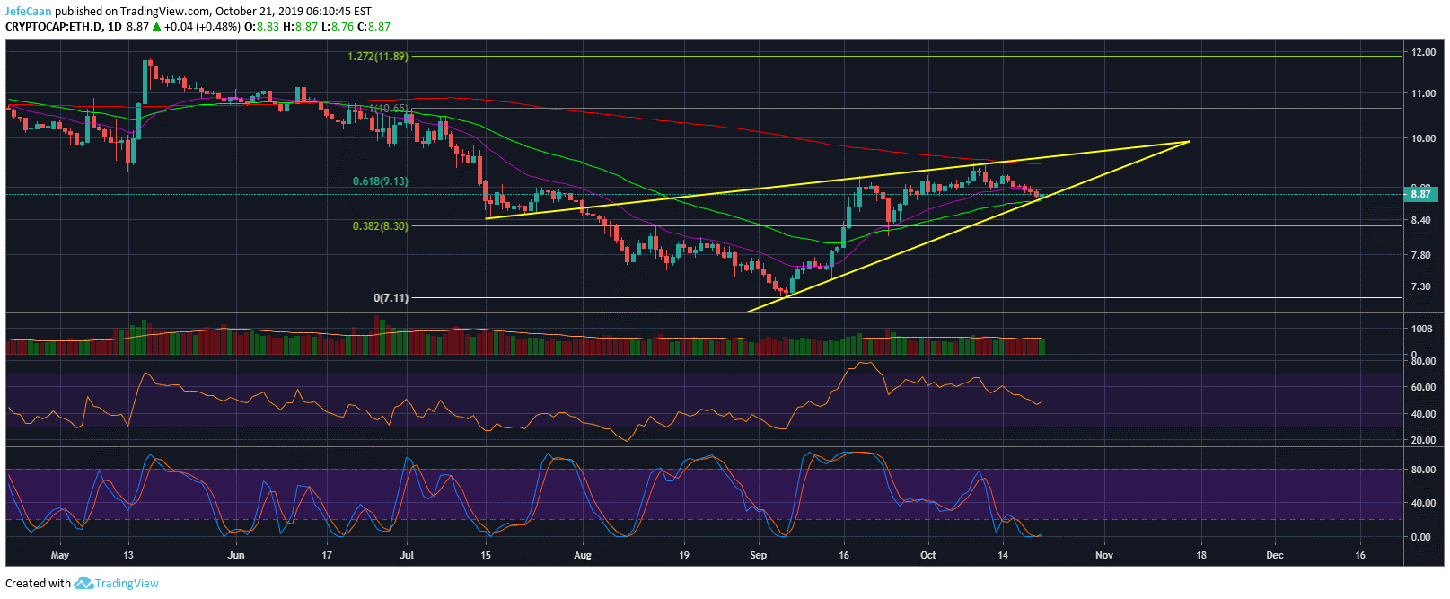 The daily chart for Ethereum Dominance (ETH.D) now points to a potential bullish move towards the top of the rising wedge. The RSI and Stochastic RSI support the same move. For those of you wondering, yes I did change the goalpost. The rising wedge has now been drawn differently than it was before, but that's the thing about trend lines. You can get a general idea but they are not as reliable as horizontal lines of support and resistance. EMAs however could be more reliable and useful than trend lines and we have now seen Ethereum Dominance (ETH.D) find support on the 50 EMA.
If Ethereum Dominance (ETH.D) holds the 50 EMA, then we are looking at a big move towards the 200 EMA which could finally be a point where we might consider any bearish possibilities but at this point it does not make much sense to be bearish on the market. If the price does not decline aggressively and it keeps crashing in steps, then there is a high probability that it is an ambush as we just recently witnessed. I think a lot of bears would still stubbornly expect the price to decline from here until it shoots past $185 and then it might be a little too late to do anything about it as the price would be in the clear to shoot aggressively to the top of the ascending channel i.e. above $200 and higher.