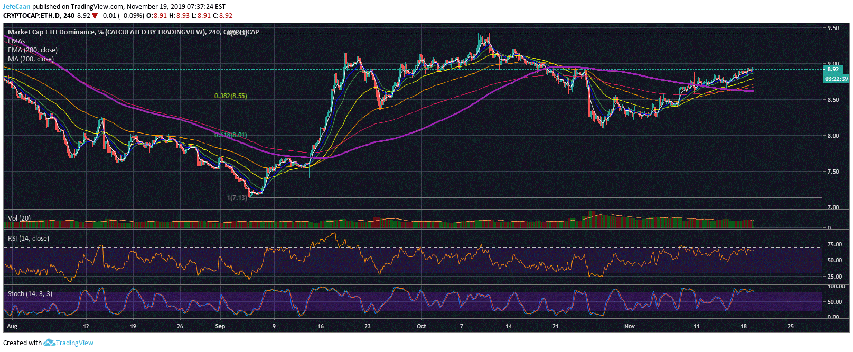 Ethereum dominance remains in a strong uptrend. We have yet to see any signs of weakness despite the overbought conditions that Ethereum dominance (ETH.D) is trading in at the moment. The market could see further short term bullishness which would be very promising for cryptocurrencies like Ethereum (ETH) that have broken key trend line resistances against Bitcoin (BTC). Ethereum dominance (ETH.D) is trading above the 200 day moving average at the moment and is showing no signs of backing down. Meanwhile, Bitcoin dominance remains at risk of further downside which points to the strong probability of altcoins rallying against Bitcoin (BTC) once more after the recent decline.

The cryptocurrency market overall has seen many ups and downs recently but it still remains in bearish territory. We have yet to see Ethereum (ETH) or Bitcoin (BTC) break out of the descending channels that they have been trading in since they topped out after making their yearly highs. However, there is still a possibility that Ethereum (ETH) might end up breaking past the descending channel even if it short lived. The reason we think there is a possibility this might happen is because ETH/USD keeps on trading close to the important $188 resistance level. If this level is breached, the price would be in the clear to rally hard.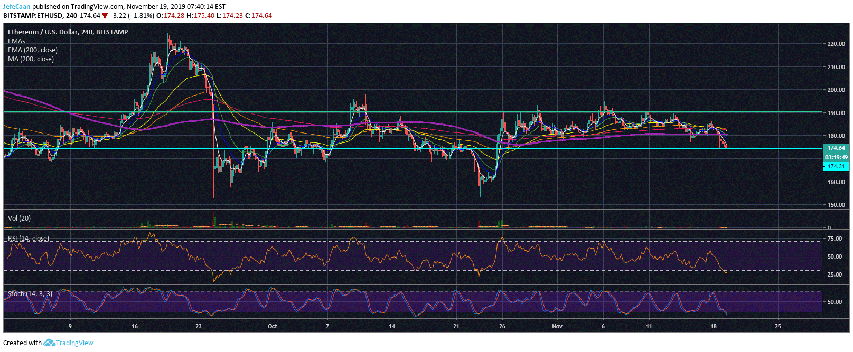 So far, the 4H chart for ETH/USD remains painted by red candles near term after the recent decline. Ethereum (ETH) was long overdue for such a decline and if it weren't for the strong support zone, it would have decline much lower. It is still possible that it could decline lower but it is more likely to see some short term relief first. If that relief rally turns into something more aggressive and the price breaks past the 61.8% fib extension level, we might have a bullish frenzy at hand that could see Ethereum (ETH) rally past $200.
Considering that a lot of bears have their stops above $200, we cannot ignore the possibility that we might see a rally or a pump to that level to liquidate those bearish positions. The fractal on the chart that has the "v shape" in the middle has been repeated on smaller time frames as well and it has led to massive further upside. If it leads to such a move on the larger time frame, it could seriously hurt retail bears as a lot of positions would be liquidated. The price will end up correcting after that but the greedy bears would not be onboard. This is why it is important to wait for confirmation before entering a trade, especially in this market.