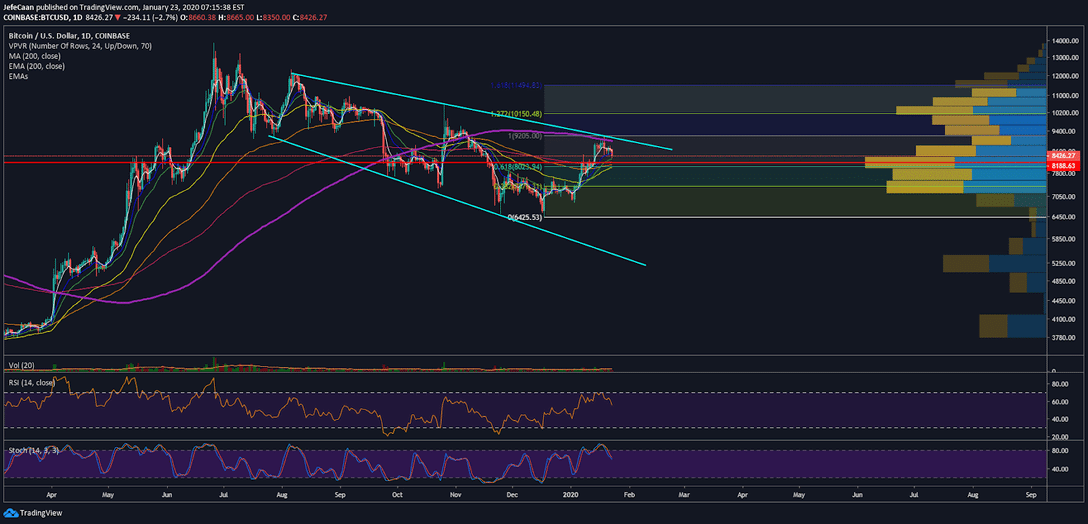 Bitcoin (BTC) has declined well below the $8,600 mark and is now eyeing further downside within the descending broadening wedge. However, the sentiment has yet to take a hit. A lot of traders are still quite optimistic and expect a major parabolic run up in BTC/USD before the next halving in June, 2020. This has nothing much to do with what has happened in the past but more to do with what traders expect to happen immediately when mining rewards are slashed in half. It makes a lot of sense from an economical standpoint that the price should increase. However, what most traders don't realize that it does not have to happen immediately.

In fact, we have seen in the past that the halving of 2016 saw the price declining before, during and shortly after the halving. It did make a big parabolic run up after that and we saw a major bullish cycle begin. However, it did not happen soon after. Another thing that most traders are ignoring is that market cycles keep on expanding. What used to happen in one week is now taking more than two weeks. This means that we might see the price take a lot longer than before to rise after the upcoming halving. However, it is before that halving that we expect the market to inflict serious pain on most of these overly optimistic retail traders that are betting big on a parabolic bull run.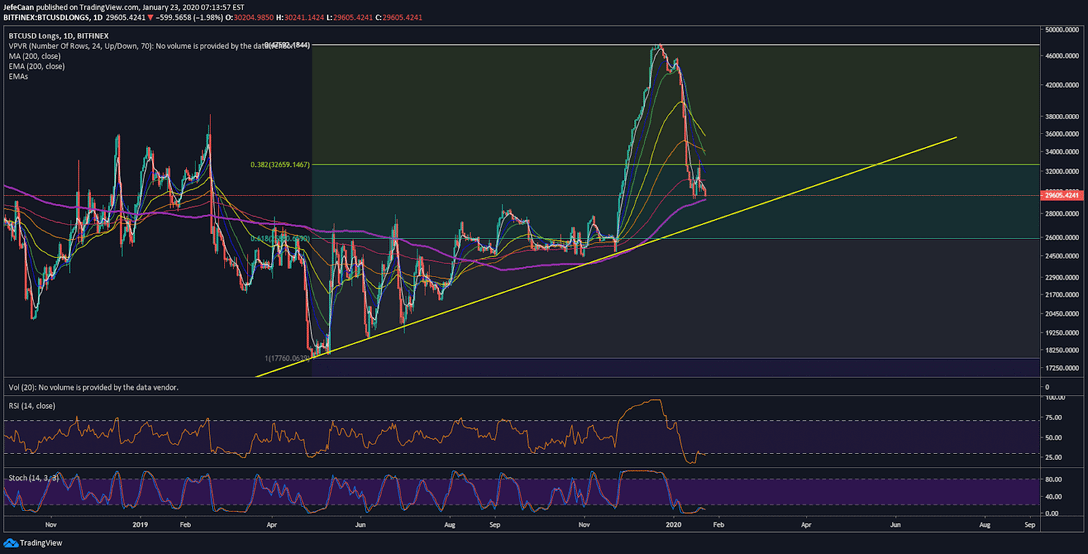 There is no denying that the price could make a move towards $10,000 near term. After all, there is too much bullish optimism and the market makers and the whales want to give everyone a good reason to go long on the market. We have seen that the recent move liquidated a lot of longs and BTCUSDLongs is now ready to decline down to the 200-day moving average. However, it is expected to begin another uptrend from there because this is not likely to be it.
Before the price comes crashing down again, it has to trap in a large number of retail bulls. Considering that this will be the beginning of the devastating decline before the next halving, it will have to be a major bull trap and the one single most profitable opportunity that the big players would have to do some retail hunting. This is why they would want to make the best of it and milk the market for every single optimistic retail bull. This will not happen without them giving these traders a good reason to go long. It is for this reason that I expect the price to shoot back towards $10,000 after it declines down to $8k which correspond to the 61.8% fib retracement level. As always, it is important to remain focused on the big picture and not be carried away by temporary noise.