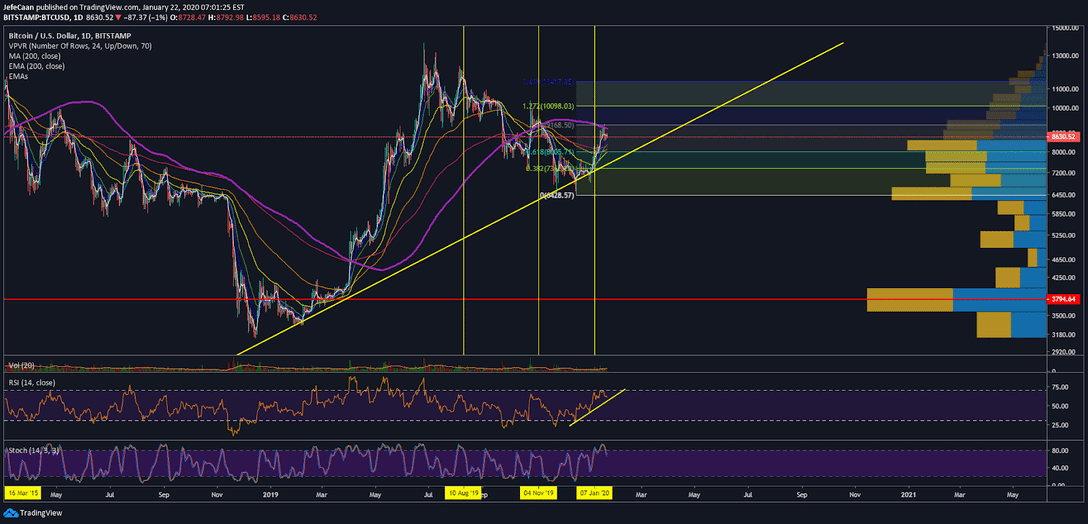 Bitcoin (BTC) is still hovering close to the 200-day moving average and is now on the verge of its next big move. This move whether to the upside or to the downside will be short-lived. The perfect play from the market makers' standpoint would be for BTC/USD to fall down to the $8k level which would make the bears feel vindicated. This would then give the market makers and the whales incentive to pump the price to much higher levels to liquidate most of those overly aggressive bears. The next move from the 61.8% fib level would most likely be to the $10k level which would also correspond to the 1.272 fib level.

That move would then get the bulls overly excited and get them trapped before the next downtrend. It is also what I expect to be the biggest bull trap before the next halving that would trap in as many retail bulls as possible on the halving FOMO before the price tumbles below the trend line support and enters a long-term bear trend. There is no reason at all to FOMO into the market just yet regardless of where it might be headed near term. We can see now that the price action is weak and a move to the downside seems likely near term. However, just like we don't have much of a reason to be bullish, we don't have much reason to be overly bearish just yet.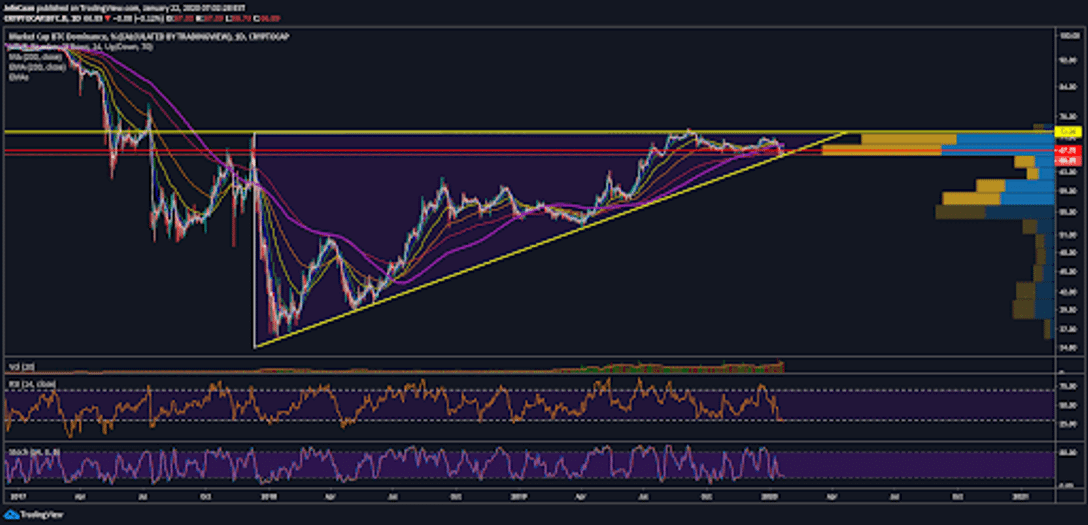 The chart that nobody seems to be talking about is this one about Bitcoin dominance (BTC.D). We can see on the daily chart for dominance that it is about to break out of a major ascending triangle. This would push Bitcoin dominance (BTC.D) to levels not seen before 2017. This is a big deal when you think about what it really means.
A rising Bitcoin dominance (BTC.D) is never good for the market on a big enough time frame. If we were to analyze the state of the market from the standpoint of Bitcoin dominance (BTC.D), we can see that 2017 was the best year for the market and that was because Bitcoin dominance was crashing hard. Now thar we are about to se a major breakout in Bitcoin dominance (BTC.D) there is a good chance that the show is over regardless of whether BTC/USD makes it to $10k or not.