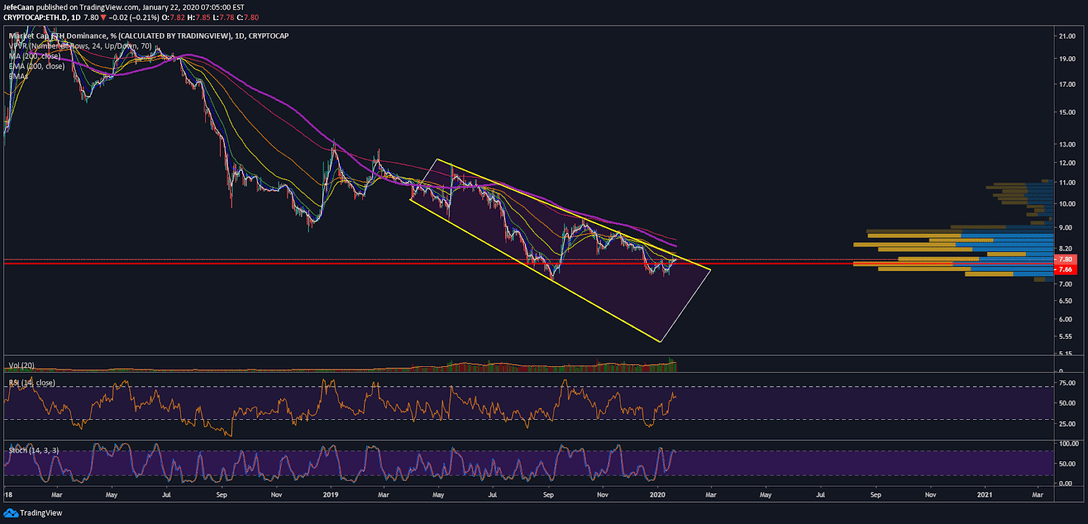 Charts don't lie. This is Ethereum dominance we are looking at on the daily time frame. This is as bearish as it gets and we are most likely on the verge of a major crash from this point forward. The descending broadening wedge on the daily chart for Ethereum dominance (ETH.D) speaks for itself. We can take a guess and see where it could fall next from here in case of a downtrend. This is why I repeatedly say that there is no reason at all to be bullish on the market at this point. It is even riskier to be betting on altcoins because they stand to lose a lot more in comparison to Bitcoin. The next crash could see most of them go under water as we have thousands of useless altcoins and ICOs at this point.

Since 2017, it has become far too easy to be bullish on the market. Investors are so sure that no matter which altcoin they invest in, it will eventually make a new all-time high. This is the kind of optimism that is unseen and unheard of in any other market. Even publicly traded companies on the stock market that have real businesses behind that have investors worrying whether their stock will go to a new high or not. We are talking about all-time highs in the case of Ethereum and other altcoin which investors are so sure about. Thinking about it practically, without any bias, we can presume that Bitcoin may at some point become a store of value and reach a higher valuation but Ethereum and most other altcoins are useless in that regard because they are not effective stores of value and tokens like ETH or XRP are not like stocks that give you equity stake in the business.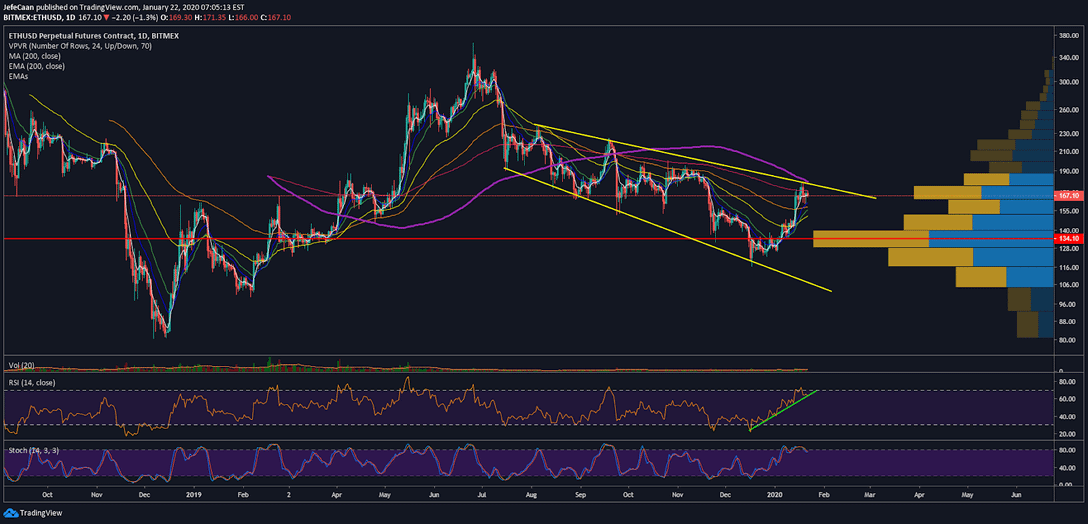 The rise of cryptocurrencies is a testament to the fact that it has become far too easy to be bullish on the market. We have seen plenty of millennial money flow into useless tokens the past few years. Unfortunately, most of such 'investors' have no knowledge or experience of any financial market and the parabolic growth of coins like Ethereum (ETH) have made them far too comfortable in hoping for a new all-time high.
The descending broadening wedge that we see on the daily chart for ETH/USD is the same as the one we see on the Ethereum dominance chart and now that the price has faced a rejection at the 200 day exponential moving average, we could see a sharp decline in the weeks and months that follow. It is still possible that we may see a retest of the 200-day moving average before that decline but the price is not likely to remain there for long. Investor sentiment is still too high in anticipation of a pre halving rally which the market makers and the whales would want to capitalize on. So, it is likely that they might let the price rise near-term to make an October, 2019 styled pump but it is likely to be followed by a much brutal decline which would be extremely devastating for the cryptocurrency market in general and the altcoin market in particular.