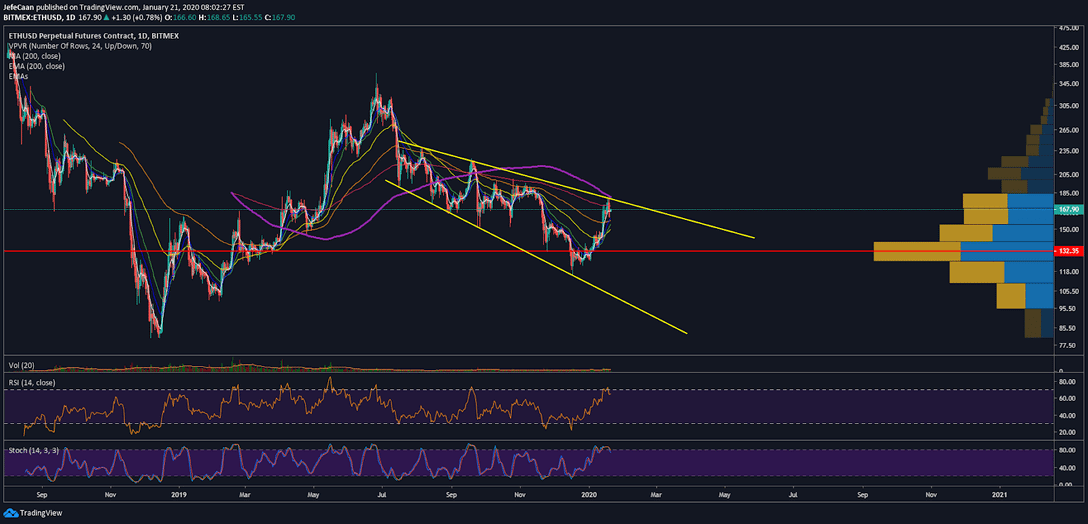 Ethereum (ETH) is on the verge of one of its most devastating downtrends in years. The daily chart for ETH/USD clearly shows the trend and it is only a matter of time before we see the price begin to decline again. It will have to test the trend line support at a lower point now to make a lower low. The decline this time will be far more devastating and the fact that ETH/USD is already trading below the 200-day moving average means that it may even enter another brutal downtrend to take out the December, 2018 lows and decline much lower in the weeks and months ahead.

There is a very low probability that ETH/USD could begin an uptrend from here because that would mean breaking the current downtrend and climbing above the 200-day moving average to begin an uptrend. All of this seems nearly impossible at this point. The fact that the majority of retail traders are overly bullish on Ethereum (ETH) at the moment is another reason to be very cautious because there is no way so many retail traders will be proven right because that would mean the casinos handing out free money to these traders. Throughout the parabolic run up, we saw the market makers and the whales continue to prey on the retail bears. The time has come now for them to prey on the retail bulls but first they want to trap in as many of them as possible on the halving FOMO.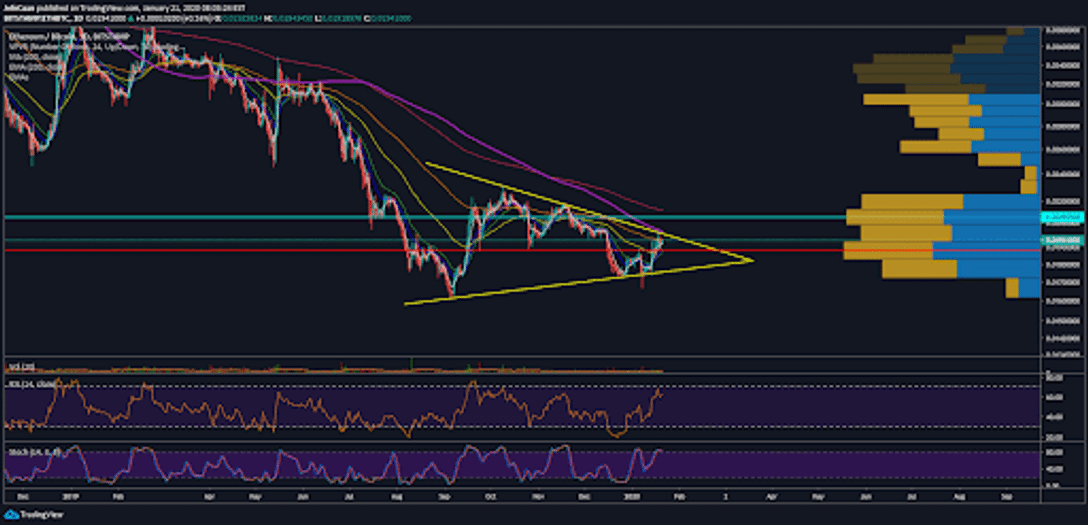 Ethereum (ETH) has more to lose against Bitcoin than it does against the US Dollar (USD) in the near future. We can see on the daily time frame that ETH/BTC has been trading with a bear pennant. This pennant has very high probability of breaking to the downside considering ETH/BTC is trading below the 200-day moving average. For a long time, we discussed the probability of the pair testing the 200-day moving average which has finally happened the pair has faced a rejection at it.
The next decline in ETH/BTC is expected to lead to a major downtrend that might last throughout the upcoming Bitcoin halving. Bitcoin (BTC) risks a fall against the US Dollar (USD) in the weeks and months ahead but Ethereum (ETH) risks a decline against both which makes it even riskier to invest in at this point. The altcoin market as a whole has yet to experience maximum pain. This is thus not a good time to be thinking about Ethereum (ETH) or any other altcoins as the risks significantly outweigh the rewards. There will be opportunities to go long if and when there is confirmation of an uptrend but so far the trend remains bearish.