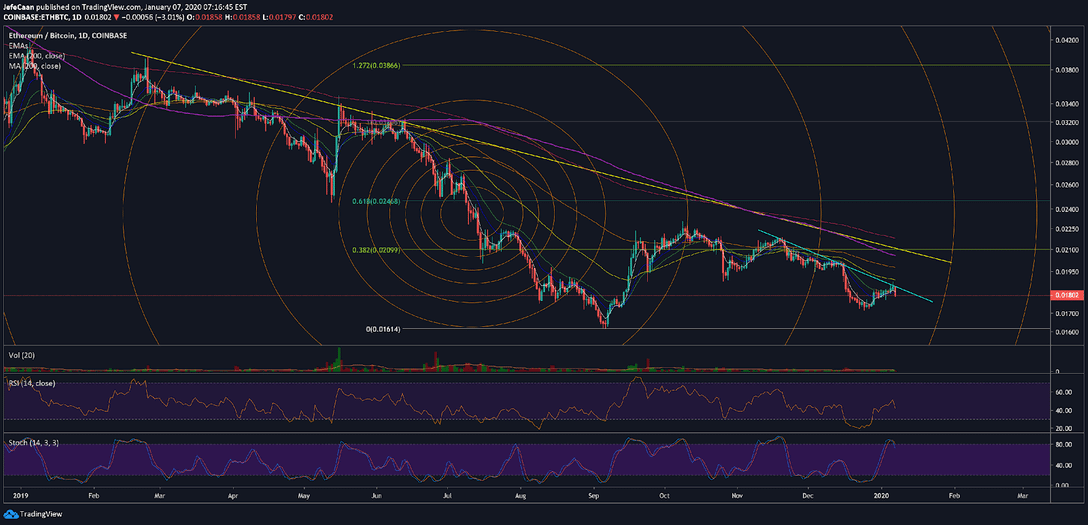 Ethereum (ETH) investors were left in shock as Bitcoin (BTC) pumped once again leading to ETH/BTC losing more ground. The daily chart for ETH/BTC shows that when Bitcoin (BTC) pumped aggressively towards $8k yesterday, Ethereum (ETH) did pretty much nothing. This is how it lost more ground against Bitcoin (BTC) and investors were left wondering what was going on. As I have discussed in most of my analyses in the past, whenever we see Bitcoin (BTC) pumping hard while the rest of the market watches, that is most often a time to be very skeptical. Bitcoin (BTC) pumping while the rest of the market doing nothing in times like these have increase the odds of intuitional exit.
It all boils down to risk taking. At a time when there is a major crisis brewing in the Middle East, investors are thinking about getting out of the stock market except in certain sectors like Defense, Consumer Goods, Materials etc which suffer the least during a crisis. The cryptocurrency market is a lot riskier in comparison and all the major players know this. They are not going to sit back and pray that Bitcoin (BTC) becomes digital gold or cryptocurrencies become safe haven assets when they are risking millions of dollars. It is easy to have that kind of a wishing and praying attitude when investing with a few hundred dollars but it's a whole different story for big investors. Most big investors tend to be more skeptical of emerging technologies and markets. The cryptocurrency market is no exception.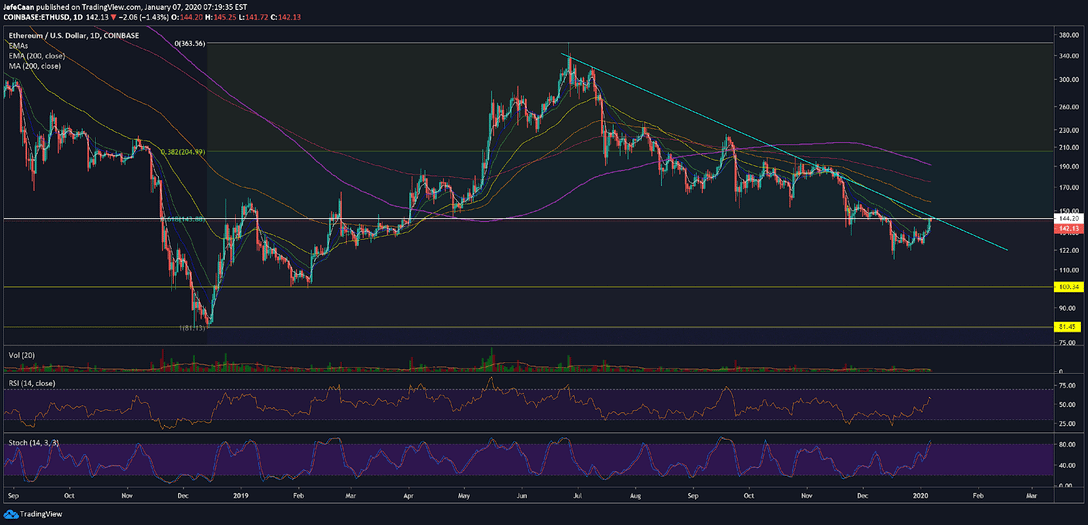 Even though some may buy into the whole "Bitcoin is digital gold" narrative short-term, they have no reason to risk their money on Ethereum (ETH) or any other altcoins at this point. The daily chart for ETH/USD shows how Ethereum (ETH) did practically nothing while Bitcoin (BTC) kept pumping towards $8K. The trend is also quite clearly visible on this chart and it is a downtrend. Until and unless it changes, there is no point in going against the direction of the market.

The vast majority of retail traders are getting too optimistic once again even on altcoins. It is not surprising to see that because pumps in the price of Bitcoin (BTC) have been getting retail traders excited every single time no matter how it ended for them weeks after. People tend to make the same mistakes over and over which is basically how this whole game continues to work again and again. The market makers and whales will do their best to capitalize as much as possible on the pre-halving excitement. Then most of those excited traders will be left holding the bags while the big players quietly run for the exit.