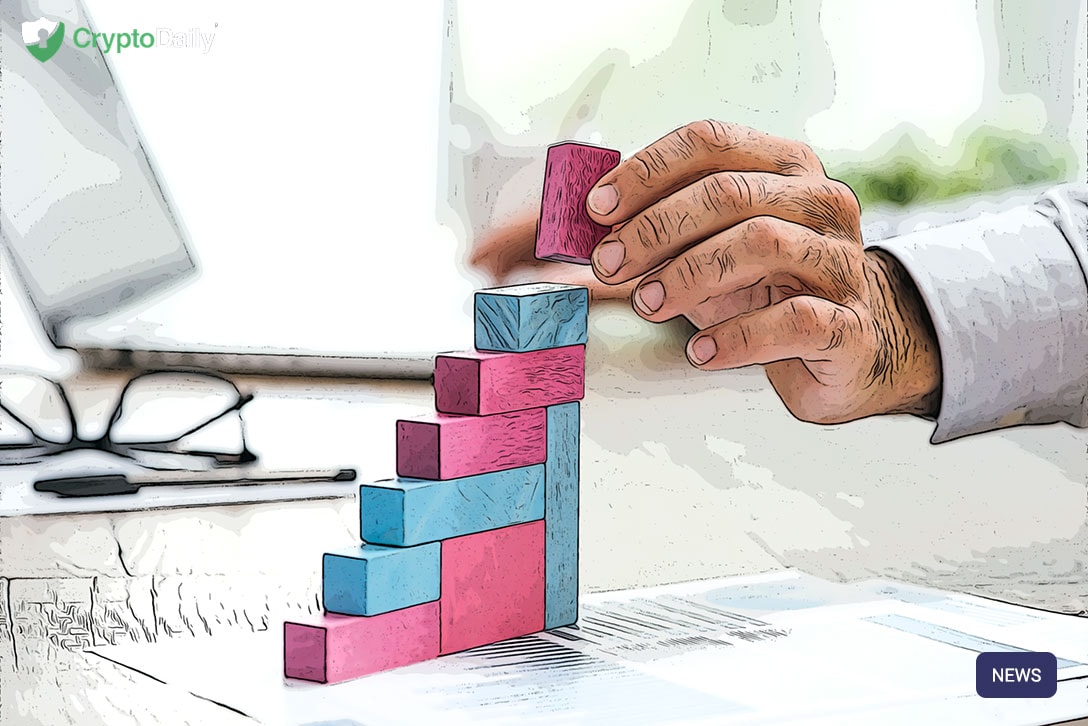 What does success look like to you? How do you measure your own success? Is it your character? Perhaps it is your job title, degree, or salary? We all look at and measure this differently as individuals. For Bitcoin and many altcoins, success is typically measured in the form of market dominance and current price valuation. While these measurements are critical for any cryptocurrency in the long-term, the Electroneum team are playing a different game and reaping the early fruits of their labor in wildly different ways.

Electroneum recently celebrated its second year in operation. In those two years, they have survived a very difficult crypto winter and learned some valuable lessons that have shaped the direction of the crypto and platform all together. With their mission to empower the globally unbaked and help end poverty, Electroneum has worked closely with mobile carriers and non-governmental organizations (NGOs) as they have rolled out initiatives in Brazil, Turkey, Nigeria, and most recently in Cambodia. As the team looks forward in making further moves towards global adoption via the utilization of their ETN rewards program, mobile top-up program, and the brand new in-app global freelance platform, AnyTask, knowing the numbers is critical.
Visits By Country


According to Alexa.com, one of the world's leading analytics sites, Electroneum's site saw the most site traffic generated (as of February 10th) from the three countries it has been working the closest with to empower the unbanked. Brazil had over 49,000 visitors, Turkey over 42,000 visitors, and Nigeria almost 28,000 visitors.120,000+ visitors in the past month in these critical markets is an impressive number when considering how few people in these nations have access to reliable internet and how new the Electroneum campaigns are in these locations. Clearly there is interest among individuals in these nations to learn about and use Electroneum.
App Rankings In Turkey And Nigeria

SimilarWeb was used to visualize mobile app usage over a 90-day span for app measurement. Some interesting insights were extracted for Electroneum users in Turkey and Nigeria. In Turkey, Electroneum's iOS app ranking on February 10th was #72 in finance, with an all-time high of #40 in November. Considering the fact that Tukey is a nation of 80+ Million citizens, this is quite a feat for the crypto startup.
Nigeria's Electroneum downloads were also substantial since going live with their mobile top-up campaign in the African nation a few months ago. At its peak on January 20th, the iOS app ranked #55 in finance. On February 1st, the Android app was #51. Both iOS and Android apps also showed an uptrend in ranking as awareness of Electroneum spreads.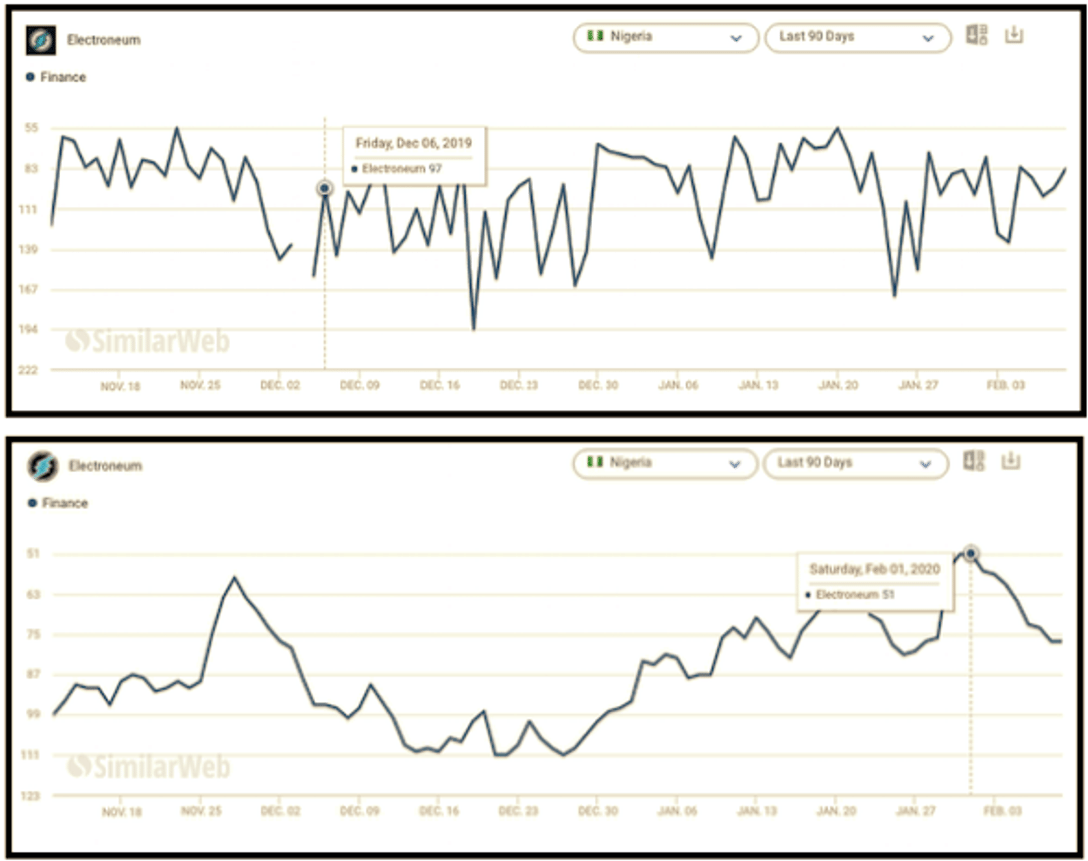 Android Downloads in Brazil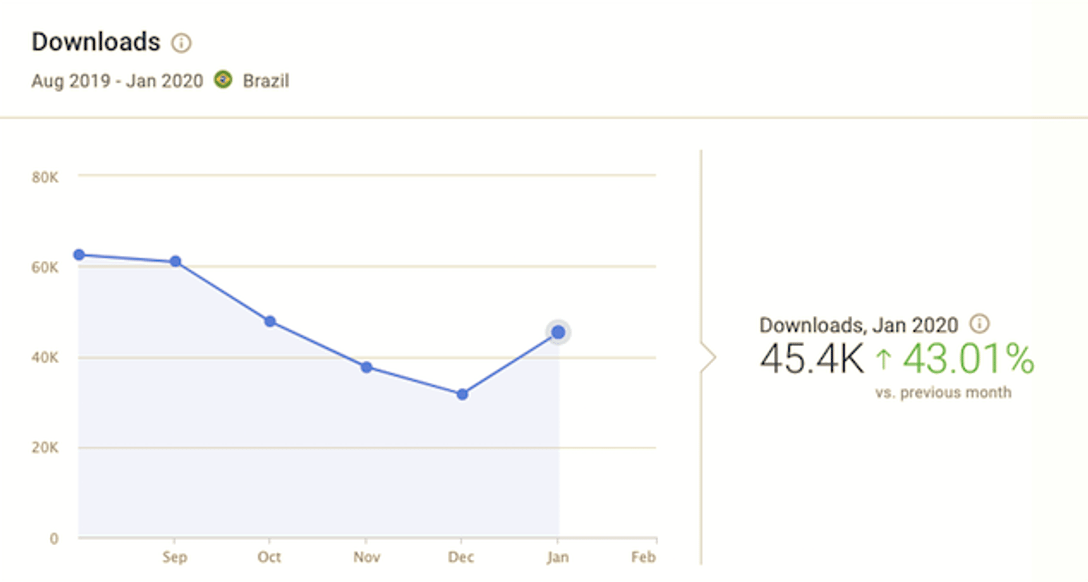 Brazil was the first country Electroneum established it's mobile top-ups program in, enabling individuals who use the Electroneum app to earn ETN rewards (free crypto) and using it towards mobile data or voice. The app saw a 43% increase in downloads from January to February. This translates to over 45,000 downloads in a 30 day span. What is also significant is the sharp uptrend of downloads from previous months, signaling growing interest in the cryptocurrency platform.
Global Android App Ranking
Another interesting finding was discovered in the global android ranking under the finance category. The figures indicate the banked and unbanked world alike are interested in Electroneum. The highest ranking globally at #12 came from Greece; a country with recent and significant financial crises. The second highest ranking was in Cambodia where Electroneum freshly launched their mobile top-up program last month. Turkey and Nigeria were both on the top-10 list, reflecting that the efforts of the Electroneum campaign's mission.

What do these figures all mean for Electroneum? It is still very early to extrapolate any meaning towards the end-game for this crypto startup, however, it is easy to see there is clear global interest. Specifically, there is interest and measurable activity in the countries that Electroneum has focused partnerships in, as well as countries outside of their current campaign scope. While much of the crypto market is living one day at a time by measuring their success by the market capitalization and dominance, Electroneum is busy playing the long game by focusing on their mission to help unbaked people globally by coming up with novel ways to empower these individuals. In 2020, Electroneum continues to roll out exciting and game-changing initiatives globally that are only just beginning to have an impact on those who need it. With most of the year still ahead of us, there are sure to be more exciting announcements under way as Electroneum unfolds its global campaign to balance the playing field and enable the unbanked.
Marcus Henry is an American Journalist with over 11 years working in the tech industry. He has been actively involved in the crypto community for the past three years and currently works out of Austin, Texas. He covers breaking news, writes perspective pieces and reflections, and conducts interviews with industry professionals and community members. Follow Marcus Henry on Twitter- @MarcusHenryHODL
Disclaimer: The information above does not constitute investment, financial, trading or any other sort of advice and you should not treat any of my content as such. I do not recommend the purchase, sale, or holding of any cryptocurrency or other product and nothing I write about should be deemed as an offer to purchase, sell, or hold a cryptocurrency or other product or service. Please do your own research and consult a certified financial professional before making any investment decision.