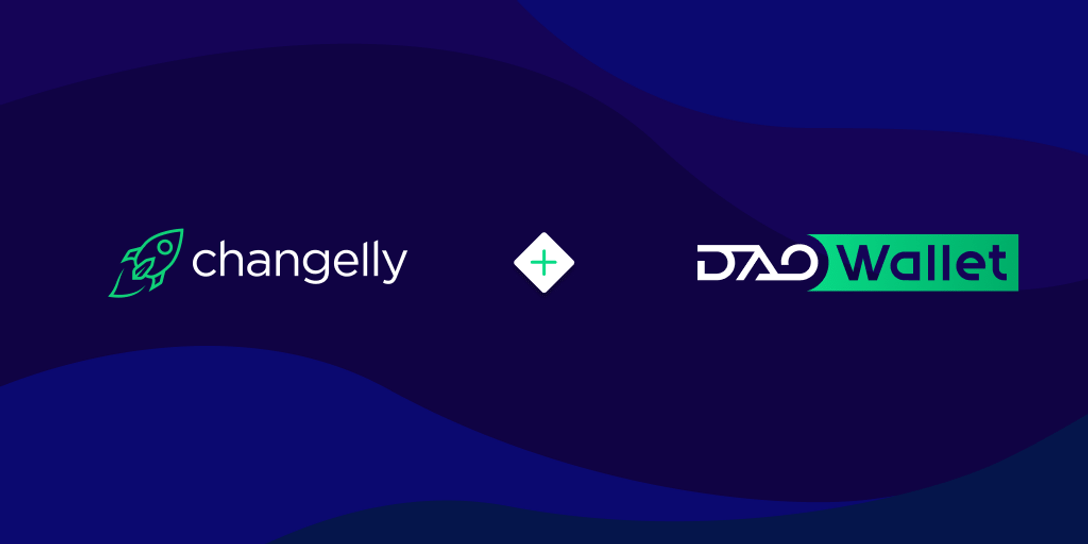 The DAOWallet, which is an integral part of the DAOGroup ecosystem, is now compatible with the Changelly instant exchange platform, giving users the benefits of in-wallet instant crypto exchanges. The BET mainnet token of the DAOBet blockchain is listed on Changelly and is now available for an instant exchange for 150+ cryptocurrencies. On top of that, Changelly users can now purchase BET with a bank card.
The DAOWallet Integration
The integration of the Changelly instant exchange tool will be providing DAOWallet users an opportunity to exchange crypto assets freely and hassle-free. Currently, in-wallet crypto exchanges are available for 3 cryptocurrencies, namely: BTC, ETH, and BET. The list of cryptos for exchange will be greatly expanded in the very near future to include the most popular cryptocurrencies and coins.

The current workflow for accessing Changelly and exchanging assets via DAOWallet is as follows:
First, the user must access the asset they wish to exchange and click on the exchange button. A window will then appear with the following fields:
- The coins to be exchanged;
- The amount to be sent;
- The amount to be received;
- The exchange rate;
- The network commission;
- The confirm button.
After confirmation, wallet users will get notified that the exchange request has been accepted, and the funds have been transferred.
Eric Benz, CEO at Changelly stresses:
"It is with great pleasure to announce our partnership with DAOBet. All DAOWallet users will now be able to swap with ease utilizing the Changelly API. In addition to the wallet integration, Changelly will also be adding the BET token to the family of assets we already have. This will certainly provide even more access to BET, which I'm sure will be a major player in the years to come."
The DAOGroup team is confident that cooperation with a reliable partner like Changelly will be a significant step towards solidifying DAOWallet's position as a secure and convenient all-in-one application for cryptocurrency operations.
"We're glad to start the partnership with Changelly. The integration process was well-established and swift. We strongly believe that our collaboration will bring great business opportunities for both of us" – comments Artjoms Spiridonovs, CEO at DAOGroup.
Partnership contacts:
DAOGroup CBDO - Marina Shim
Media contacts:
DAOGroup PR - Anna Sheglova
About DAOWallet:
DAOWallet is a safe and secure crypto wallet that allows player authorization on DAOPlatform, as well as playing games and receiving real-time payouts. Manage your crypto portfolio – buy, sell & exchange cryptocurrencies. Not only limited to players' use, DAOWallet acts as a payment gateway for game developers, operators, and affiliates. For more advanced blockchain users DAOWallet helps to stake and validate the BET Tokens.
About the BET Token:
BET - DAOBet native token - is used as a point system for the motivation of DAOBet ecosystem participants as well as a sub-currency which is used in the games.
DAOWallet website: https://daowallet.com/
DAOGroup website: https://dao.group/
About Changelly:
Changelly is a non-custodial instant cryptocurrency exchange, that acts as an intermediary between crypto exchanges and users, offering access to 150+ cryptocurrencies. The company's mission is to make the exchange process effortless for everyone who wants to invest in cryptocurrency. Operating since 2015, Changelly attracts over a million monthly visitors who enjoy the high limits, fast transactions, and 24/7 live support. Changelly has an intuitive interface, the best exchange rates, and secure transactions.
For those looking to exchange crypto on-the-go, Changelly offers its official mobile app with fixed-rate exchanges, available for download on the AppStore and Google Play. For those who would like to exchange crypto at a floating rate, Changelly offers the market-lowest fee of 0.25% for all crypto-to-crypto exchanges.
Changelly offers its API and a customizable payment widget to any crypto service that wishes to broaden its audience and implement new exchange options. Dozens of crypto businesses already use Changelly's API, adding the instant swap feature to their services. The platform also provides an Affiliate program with a 50% revenue share mechanism.
For more information visit Changelly.com
Partnership contacts:
Changelly CBDO - Ilyas Sultan
Media Contacts:
Changelly PR - Stephan Nau