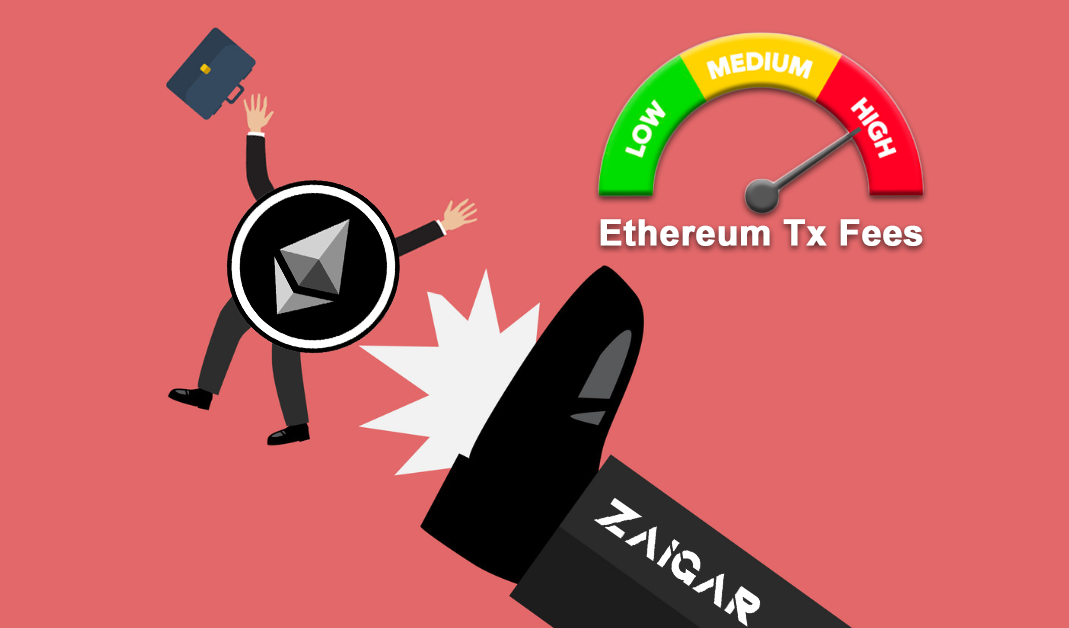 What is Zaigar.com?
Zaigar.com, a Brazilian marketing task and reward platform for digital currencies and tokens, has publicly announced how much money they saved using the cryptocurrency Dash instead of their own native Ethereum ERC-20 token (ZAI).
Zaigar was founded in 2018 and has over 54,000 verified registered users. Over 100 companies have deployed marketing campaigns using the Zaigar platform.
How Much Money Did Zaigar.com Save?
In May, Zaigar issued 5,000+ Dash transactions, which saved the company over $1,100 USD in network fees.
In June, it was 10,000+ Dash transactions, which saved the company over $2,200 USD in network fees.
In July, Zaigar issued 2,300+ Dash transactions, which saved the company over $800 USD in network fees.
Zaigar.com Adopting Dash As Exclusive Form of Payment
In a video interview, Brazilian Dash ambassador Rodrigo Ambrissi stated that Zaigar now plans to fully adopt the cryptocurrency Dash as the exclusive form of payment — replacing their native Ethereum ERC-20 token ZAI. This decision came after months of soaring transaction fees on the Ethereum blockchain, which made Zaigar's business model — dependent on micro-payments — infeasible.
Ethereum Network Fees Have Gone Through The Roof
At the time of publication, the following chart from BitInfoCharts.com clearly displays how Ethereum fees have been in a steady uptrend in comparison to Bitcoin over the last three month period. The surge is believed to be in relation to increased decentralized finance (DeFi) activity, and marks the highest average fees in two years.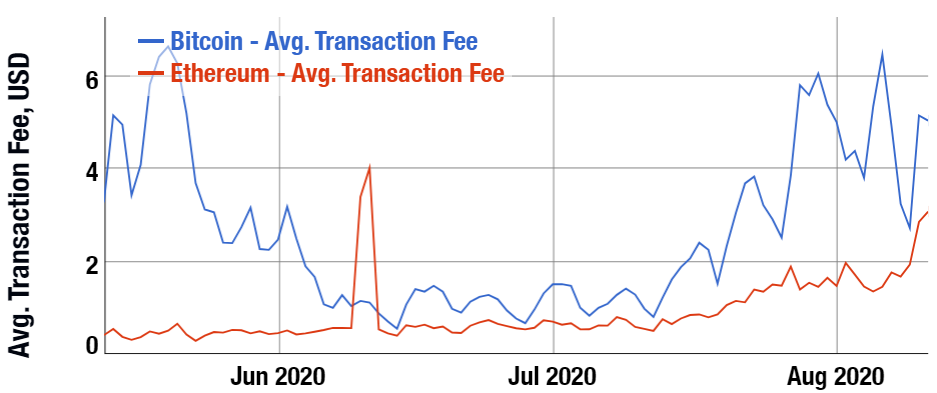 Ethereum (ETH) co-founder Vitalik Buterin has called for reform to the cryptocurrency's fee system, warning that rising transaction fees could undermine the security of the network.
Why Did Zaigar.com Select Dash For Payments?
Dash is a payments cryptocurrency with a long history of sub-cent transaction fees. As Bitcoin and Ethereum fees spike, Dash has managed to maintain very low transaction fees despite continued increases in transactions over the last two years.
Below is a chart from CoinMetrics of data from the last three months. It uses a seven-day average to compare the median transaction fees and the active address count for Bitcoin, Ethereum, Litecoin, Bitcoin Cash and Dash.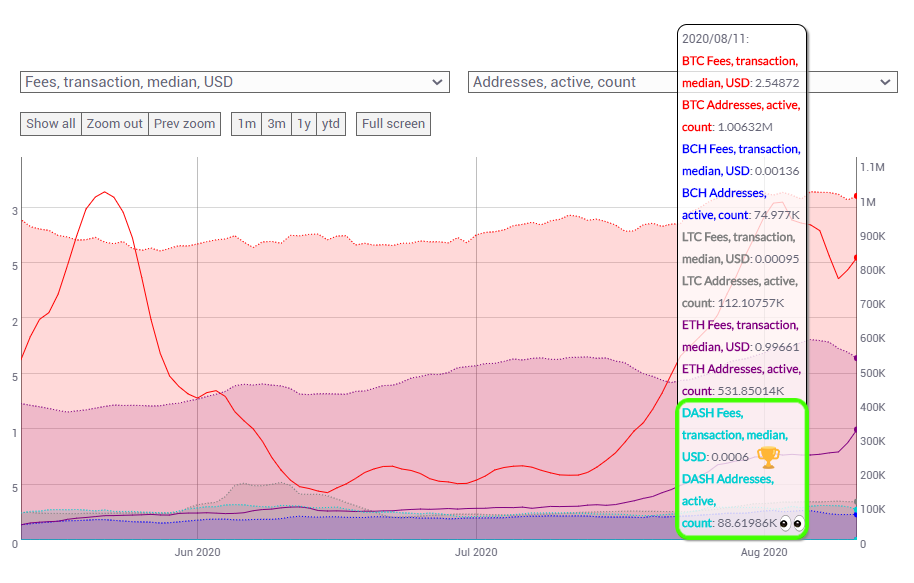 Dash has the lowest fees and maintains a high active address count.
At the time of writing, Coinmarketcap.com lists Dash in 24th place with a market capitalization of $875,947,102. According to blockchain metrics, Dash is cheaper and faster than Bitcoin Cash to transact, as well as boasting more active addresses and daily transactions. Even though Dash is outperforming Bitcoin Cash, it's currently valued close to six times higher than Dash.
Dash saw a 104% rise in commercial payments through Q1 2020, along with increased trading volume and improved price performance.
What Does Zaigar.com Switching To Dash Mean For Other Ethereum-Based Projects?
We reached out to Dash Trust Protector Mark Mason for comment on Zaigar's switch to using Dash and what this means for the blockchain industry as a whole. Mr Mason stated:
"When it comes to real-world payments and utility, Dash has become an outlier in the cryptocurrency arena. In addition to industry-leading low transaction fees, Dash transactions have instant settlement with instant respendability. This makes Dash the perfect digital cash payments solution for not only businesses like Zaigar, but also for users, merchants, exchanges, and traders that benefit from Dash's low cost, security, and fast confirmation times."
When prompted for comment on the topic of Ethereum 2.0 and how validator nodes will help to scale and reduce transaction fees, Mr Mason also told Cointelegraph:
"The whole crypto industry is on the edge of their seats awaiting the upcoming Ethereum 2.0 switch from PoW to PoS. It's a very dangerous and risky move that hasn't been performed before at this level or magnitude. If the switch is successful, it will no doubt inspire and lead the way forward for other projects to follow suit. However, if it fails, the results could be catastrophic for the Ethereum project, which would include the vibrant DeFi ecosystem built upon its network. As always, it's an exciting time to be crypto."
When asked to expand on the potential risks on Ethereum 2.0, Mr Mason commented:
"Those that recall the $55 million Ethereum DAO hack four years ago should be nervous. I admire and respect Ethereum for growing the DeFi and smart contract ecosystem, but the project as a whole isn't infallible and there is a real serious risk in the transition proposed for Ethereum 2.0. Ethereum validator nodes isn't a new concept but moving completely from PoW to PoS consensus is.

Dash pioneered the first cryptocurrency DAO in 2015, as reported by Cointelegraph, with the first two-tier network which is still running strong today. It seems Dash is once again ahead of the curve when it comes to blockchain innovation and on-chain scaling solutions. From a risk management perspective, personally I would prefer to stick with the innovators with a fully working, operational, tried-and-tested solution.There is little to no risk there."
Is Dash A Sleeping Giant?
Is Zaigar using Dash instead of Ethereum just a one-off event, or could this lead to more ERC-20 token based projects making the switch from Ethereum to Dash? It will ultimately come down to usability and network performance. Ethereum is the dominant leader in DeFi, smart contracts, and stablecoin-based projects. It appears as if Dash is positioning itself as a potential serious contender to take on Ethereum with the upcoming long-awaited launch of Dash Platform.
If the delayed Ethereum 2.0 launch that plans to switch from proof-of-work to the proof-of-stake doesn't go according to plan, Dash could seriously stand to benefit not just from Ethereum's large user-base, but also from its vibrant development community that may opt to build on Dash Platform instead. Dash already has a two-tier network in place with currently 4984 active masternodes each holding 1,000 Dash that makes up over 52% of Dash's circulating supply. Therefore, from an infrastructure point of view, Dash has already beat Ethereum to the punch on the two-tier network front without risking user funds by switching from proof-of-work to proof-of-stake. Dash Platform is currently being publicly tested with an active developer community that has documentation, tutorials, tools to build DApps, and bounty rewards for development tasks. The testnet launch for Dash Platform is set to launch in Q4 2020.
Dash Platform is made up of four components which, together, will make Dash the first peer-to-peer cryptocurrency that functions like a cloud service. This means things like standard web access via the world's first decentralized http API, blockchain-verified storage of application data, human-readable usernames built on top of cryptographic addresses, data contracts, and more.
The Best of Both Worlds?
Dash is fast becoming a multi-functional, two-headed dragon that offers the best of both worlds. Previously it was easy to differentiate between the two leading blockchain projects that offer different market use-cases. Dash will soon have the ability to rival Ethereum on the utility and functionality front while also offering the scarcity of Bitcoin with an added protection from 51% attacks via LLMQ ChainLocks.
With the Dash Platform planned network enhancements, and impressive on-chain network activity, it is obvious that Dash will be much more than a payments cryptocurrency in the future. However, it remains to be seen if these improvements to the network will be enough to capture the attention and imagination of the retail market and blockchain developer communities. One thing is clear: some businesses such as Zaigar.com are already embracing the economical advantages and merits of Dash by making the switch. Only time will tell if other projects and new startups will follow their lead.
Will Dash ever make it back into the top 10 CoinMarketCap rankings? It's up to the market to decide if this dragon has wings or not. If Dash continues to increase cryptocurrency user-adoption at the grass-roots level in key areas such as Latin America and Asia, there's a good chance it will soar.