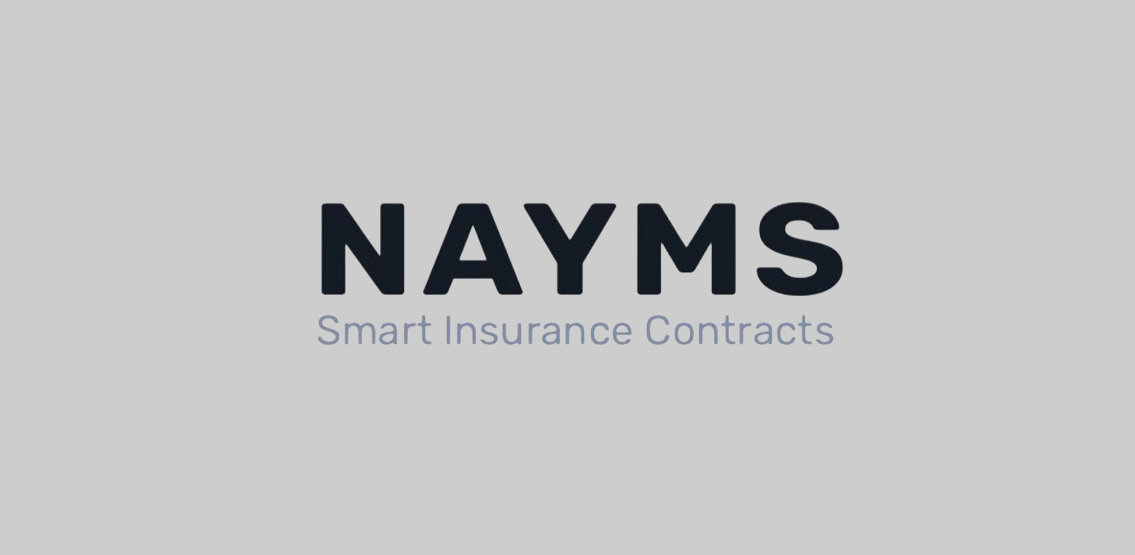 Nayms, an insurtech startup, has closed a £1.5m seed round led by XBTO and other investors such as Coinbase Ventures, Maven11, the founders of Synthetix, and Insurtech Gateway, who co-founded the project with CEO, Dan Roberts, from day one.
XBTO's Greg Carson said about the investment:
"We are pleased to invest in the Nayms project alongside some of the top insurtech investors. We see insurance as an important spoke of the cryptofinance evolution."
Nayms's Plans Prior To Its 2021 Series A
The funding will allow Nayms to continue launching more extensive pilot programs as it preps for a full-scale launch in Q1 2021 when it receives a full regulatory license following graduation from the Bermuda Monetary Authority (BMA). The firm will now be building its customer and work on capital market integrations before its Series A, which will likely take place in Q1 2022.
Names Launches First Pilot Program
The seed funding round actually coincided with the launch of the company's first pilot, a digital insurance contract for Coinlist placed by Breach Insurance. It's a crime contract covering electronic theft and phishing risk, with cover provided by MakerDAO, an existing Nayms investor. Breach CEO Eyhab Aejaz said:
"There is a well-documented shortage of re/insurance capacity available to digital asset risks and in order for Breach to scale our business to new markets and additional products, it is imperative for us to identify complementary sources of re/insurance capacity and collateral. Our partnership with Nayms allows Breach to cover complex digital asset risks at scale — similar to how this problem is solved for traditional catastrophic risk insurance in the P&C and Surplus Lines markets."
Following the pilot, Nayms CTO Theodore Georgas said:
"This pilot represents a small but significant milestone for Nayms as we move into 2021 with accelerating traction. It is our belief that the problem of scaling insurance protection for the digital asset space will be solved through a collaboration between regulated underwriters/brokers and capital markets. Nayms is building the infrastructure to facilitate this collaboration."
What is Nayms?
According to their website, Nayms is a "Platform for the Placement and Trade of the World's Risk." It uses smart contacts to collateralize cryptocurrency risk with matching crypto-assets, bringing insurance with no FX-risk to a massively uninsured space. Nayms has already partnered up with MakerDAO – one of the biggest names in the crypto space – to collateralize its smart insurance contracts with the Dai stablecoin. This allows Nayms to apply its platform to traditional risk on the broader insurance market.
Disclaimer: This article is provided for informational purposes only. It is not offered or intended to be used as legal, tax, investment, financial, or other advice.