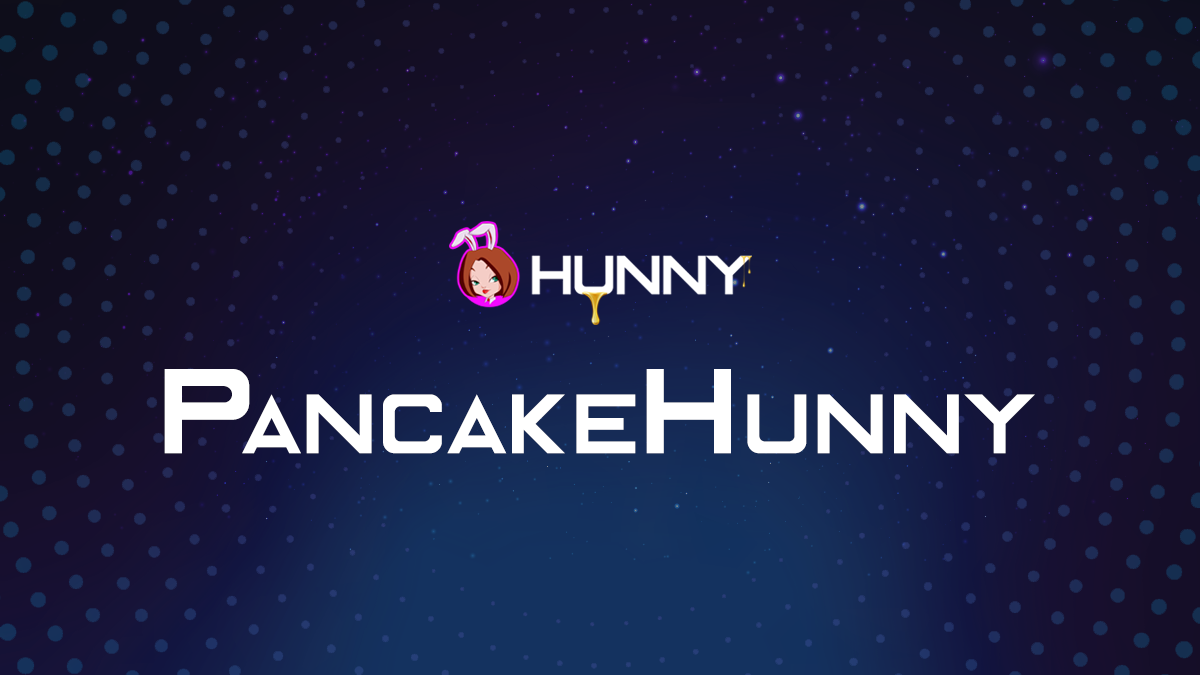 As yield farmers ourselves, we are constantly looking out for, obviously, high yields, but more than that, we are always hoping for one that actually promotes experience for its users, carrying the spirit of community building, at the same time, transparent, fair and sustainable. Hence, the birth of PancakeHunny.
Let our HunnyBunnies bring you the sweetest experience we've got to offer!
The Secret Recipe?
Hunny tastes best with Cake 🤤
PancakeHunny aims to be the most engaging and fun DeFi destination built on Binance Smart Chain (BSC). On top of that, we are developing a brand new and unprecedented gamified farming playground where every user can enjoy high yields and exciting games at the same time.
What is PancakeHunny?


For the love of $CAKE, you get more $CAKE and $HUNNY!
Team PancakeHunny provides users the easiest way to join the bandwagon of the DeFi world. We support the underlying DeFi technology and ecosystem to compound user yields through the BSC. We have seen a huge surge in DeFi activities in 2020 since the rise of Yield Aggregator projects on different blockchain networks with existing platforms such as MakerDAO, Aave, Compound, and many more. As a Yield Aggregator with a vital role in the yield farming economy, we are leveraging different DeFi protocols and strategies to maximize user profits.
Find out more on how to enhance and optimize your DeFi yield farm for Binance Smart Chain (BSC) with $CAKE.
Why Binance Smart Chain now?
With the high ETH gas fee now (164 gwei at fast rate as of 10th May 2021), the best reason to do Yield Farming on BSC is the low gas fee. This creates a lower barrier of entry for individuals to come into the ever-growing DeFi space and be able to earn good returns harvesting the crops with little capital. Through smart contracts, PancakeHunny allows individuals to reap fruits of compounding without any hassle as we calculate the best compounding frequency and automatically compound user's tokens.
Compound Yields with PancakeHunny
PancakeHunny uses, but not limited to, PancakeSwap and PancakeBunny for Yield Farming since they are seemingly, one of the most prominent and innovative platforms. PancakeHunny is dedicated to curating new and better yield optimization strategies. Furthermore, we have auto compounding hive vaults on PancakeHunny platform whereby users can receive the rewards from liquidity pools and these rewards are all compounded into respective pools automatically, enhancing the ROI for users. We are planning our cross-chain project soon, which will allow ETH-BSC cross-chain and eventually get more ETH users onboard PancakeHunny.
What is so special about PancakeHunny?
Unlike other DeFi farms, all we wanna do other than reaping profits, is have heaps of fun!
We aspire to be one of the leading DeFi curators that integrates DeFi with Poker, Lottery, NFTs and more gamifications. HunnyPoker and HunnyLottery are on PancakeHunny platform to keep you entertained while you reap your rewards from farming, at same time promote healthy community building globally. Open your very own private HunnyPoker Club and invite your friends for a few rounds of poker!
Oh, did we mention our NFT HunnyMall? Stay tuned, as we bring you the hottest NFTs in the crypto world.

Many ways to get more $HUNNY profits

TL;DR

If you love yield farming, try staking in our Hunny Hive to get $HUNNY.
If you love Texas Hold'em, try your luck to win more $HUNNY from HunnyPoker.
If you love to win Lottery, try your luck to win more $HUNNY from HunnyLottery.
If you love to collect unique digital art pieces, buy limited editions of HunnyBunnies NFTs from our HunnyMall.
HunnyLottery


Lottery is a very simple game for anyone to be engaged in. The stakes are small and the winnings can be significant. A portion of the revenue earned from HunnyLottery will be shared, and the rest will be burnt. We will be having frequent rounds of lottery, keeping the value of $HUNNY healthy and sustainable.
HunnyPoker


Through HunnyPoker, we want our community to come together to bond and unwind. The rake received from all poker games will be split into portions, one to be burnt, one for the dev team and the remaining will go into the HunnyJar which will be distributed amongst our valued members (BumbleBees & HunnyBees). Interested to find out how you can be a BumbleBee?

Limited Edition of HunnyBunnies NFTs