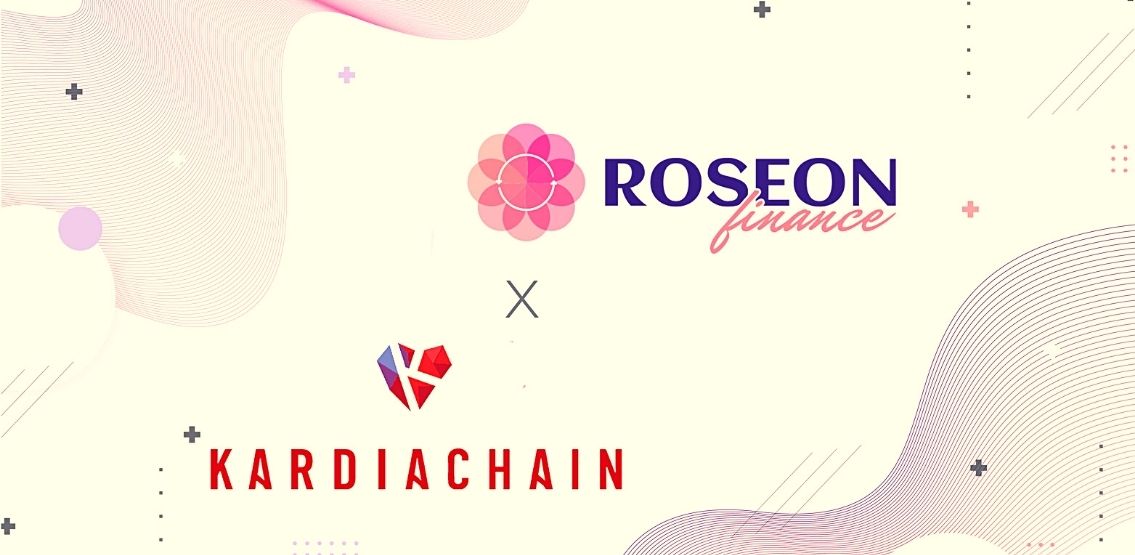 Crypto-Investment app Roseon Finance has partnered with the public blockchain platform, KardiaChain. KardiaChain is a project committed to bringing traditional finance-based businesses to the blockchain through uniquely designed solutions.
The team at Roseon announced the partnership on Twitter:
"We are delighted to announce our new partnership with @KardiaChain, Hybrid Blockchain Solution for Enterprises and Government Handshake. We'll integrate $ROSN $KAI into our platform, and integrate projects in the #NFT marketplace."
A Rosy Collaboration With KardiaChain
The partnership will oversee the integration of KardiaChain's $KAI tokens on the Roseon mobile app and DeFi platform and Roseon's $ROSN token on KardiaChain's mainnet and wallet. Roseon and KardiaChain collaboration will also integrate projects in the NFT marketplace.
KardiaChain promotes the mass adoption of blockchain, dedicated to bringing crypto to the mainstream, thus making Roseon an ideal partner to be collaborating with. The collaboration is representative of the fact that Roseon's facilitates attractive opportunities for its users. It also allows the $ROSN utility token to be used on another platform.
About KardiaChain
KardiaChain, a public blockchain platform, was founded in 2018 with a Vietnamese core team and engineers and experienced professionals worldwide. It is focused on interoperability and hybrid blockchain solutions. The infrastructure it designs is used for enterprises and governments in Vietnam and other South and East Asian Countries.
KardiaChain's Dual Node technology is designed to provide cross-chain communications between public and/or private blockchain, regardless of protocol. It offers solutions that are easily adaptable for institutional clients.
About Roseon Finance
Roseon Finance is a mobile yield aggregator that manages crypto and NFT portfolios of their users and optimizes yield across DeFi and CeFi networks. Roseon Mobile is a crypto finance app currently available on Android, with an iOS version soon to be released.
Its customer-centric design acts as a gateway to DeFi by helping to onboard new users easily. It's native token is $ROSN and has a total supply of 100 million. These are used for staking, transaction fees, and participating in tiered products and services on its mobile app.
Roseon also provides Roseon Aggregator Service and Roseon.DeFi. The aggregator service brings liquidity and yield optimization to its ecosystem by integrating external CeFi and DeFi sources. Roseon.DeFi is a decentralized yield farming application to optimize DeFi users' yield farming with low transaction costs. As it is designed to interact with other DeFi services, the dApp will provide liquidity pools, swaps, and yield aggregation.
Disclaimer: This article is provided for informational purposes only. It is not offered or intended to be used as legal, tax, investment, financial, or other advice.