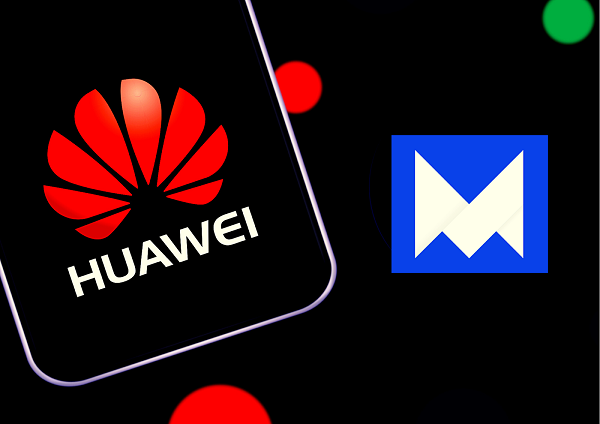 Huawei has jumped on the crypto bandwagon...again.
Maiar, a blockchain app powered by Elrond Network, today announced that users of the Chinese smartphones can now get immediate access to its crypto wallet. As of today, Maiar is available for Huawei owners on the AppGallery store.
The app allows Huawei users to turn their phones into biometrically secure hardware wallets, according to the announcement.
"Maiar's debut in the AppGallery will empower our customers with an important tool that will help them take control of their financial health," Siri Børsum, Global VP of Finance Vertical, Eco-development & Partnerships at Huawei Consumer Business Group, said.
He added that "blockchain technology will play an essential role in advancing the consumer internet, which needs to be mobile, personal, and secure."
What's different about this Huawei crypto wallet?
But what does the app do? And why is it different to any other crypto wallet available on the app store?
For a start, this app is more secure because Maiar offers a digital identity layer. This works by mapping the phone number to a wallet address. This way, user privacy is protected. It's also easier to send money: with the number connected, money can be pinged to friends and family via the address book. It also doesn't collect any personal data.
And Maiar claims to use "progressive security": the app basically informs users on how to increase their security the more they use the app and the more assets they store. The app adjusts accordingly to a user holding, say, $1-worth of Tether, to a user with over 0.25 Bitcoin.
Maiar's app is powered by the Elrond Network, which is an internet-scale blockchain that is capable of processing 15,000 transactions per second. The app claims that sending money is as easy as sending a message.
The idea is that the crypto adoption (starting in China, Huawei's HQ and biggest customer base) will grow because of the ease of using such a wallet on one of the biggest smartphone brands.
Beniamin Mincu, Elrond Network CEO, said: "The launch of Maiar in Huawei's AppGallery gives us exposure to a huge new user base, which is essential for our mission to enable access to a high bandwidth and low latency global financial system for anyone, anywhere."
The app offers support for Elrond, Ethereum, and Binance Smart Chain, with Bitcoin, NFTs (non-fungible tokens) and other currencies to be added soon.
Huawei's crypto push
This isn't the first crypto-friendly move the tech giant has made, either. Last year, the company announced that its Mate 40 smartphone series would include an integrated hardware wallet for China's central bank digital currency, the digital yuan.
And just last month, Polkadot-based DAO platform Idavoll Network announced its partnership with Huawei — becoming the biggest blockchain company to work with them.
Disclaimer: This article is provided for informational purposes only. It is not offered or intended to be used as legal, tax, investment, financial, or other advice.