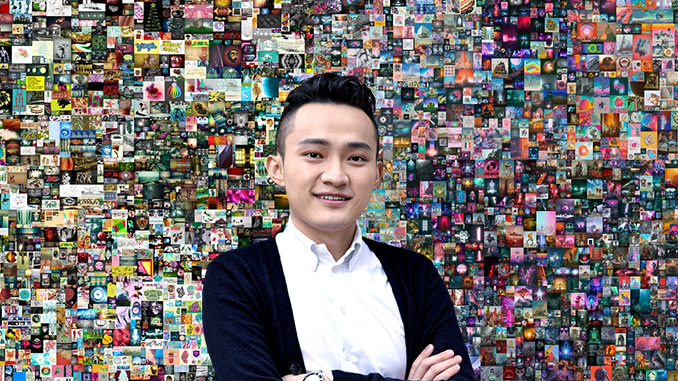 The enigmatic founder of blockchain network TRON, Justin Sun, recently came within a whisker of owning the most expensive NFT in history – Beeple's The First 5,000 Days. Perhaps smarting from that near miss, the impresario made no mistake in coming out on top of an auction for NFT Glee's Golden Whale Pass this past Friday. The NFT gives Sun lifetime whale access to all future Bitcoin Conference events, and entailed various VIP benefits at this weekend's 2021 Conference in Miami.
With a winning bit of 12.6 BTC – somewhere in the region of $450,000 – Sun entered the history books: the Golden Whale NFT is the highest-priced Bitcoin NFT to date.
"Bitcoin epitomizes everything that cryptocurrency innovation stands for, and will continue to stay in the forefront of our industry as we enter mass adoption," said Sun.
"It is exciting to see large-scale NFT use cases such as the Golden Whale Pass, and I am excited to be a part of this legacy. Congratulations to the Bitcoin Conference team and the NFT Glee team – I plan on donating this NFT to the APENFT project and look forward to using my pass well into the future."
Is the Sun Setting on NFTs?
APENFT is a platform where users can register world-famous artworks as non-fungible tokens. Powered by Ethereum and TRON, and supported by the TRON-owned storage provider Bittorrent File System (BTFS), APENFT's core team includes specialists from the art world including former employees of the Christie's and Sotheby's auction houses.
Sun recently donated several high-profile artworks to APENFT including Beeple's OCEAN FRONT, Picasso's Femme nue couchée au collier, and Andy Warhol's Three Self Portraits. The combined sell price of the works listed on APENFT is $28 million.
Although the NFT market has cooled since peaking at the end of March, many investors continue to have high hopes for the technology, particularly with more marketplaces and protocols coming online. And NFTs clearly still have lots of appeal in the real world. Last week, the International Olympic Committee joined forces with nWay, a subsidiary of Animoca Brands, to release a collection of Olympic-themed NFTs ahead of the Tokyo Games.
The tokenized versions of previous Olympic lapel pins will commemorate the Games' 125-year history and take the form of mascots and posters.
Sun is no stranger to the NFT space: in March, TRON released technical documentation for its NFT standard, known as TRC-721, and the same month it facilitated Lindsay Lohan's first foray into the market. TRON's MegaCryptoPolis Metaverse also has its own inbuilt NFT marketplace.
The BitTorrent CEO and TRON founder is bullish on NFTs and believes that the decentralized network he oversees is best placed to deliver digital artwork and collectibles at scale. As his latest acquisition shows, Sun isn't afraid to put his money where his mouth is by claiming a major stake in the NFT economy.
Disclaimer: This article is provided for informational purposes only. It is not offered or intended to be used as legal, tax, investment, financial, or other advice.