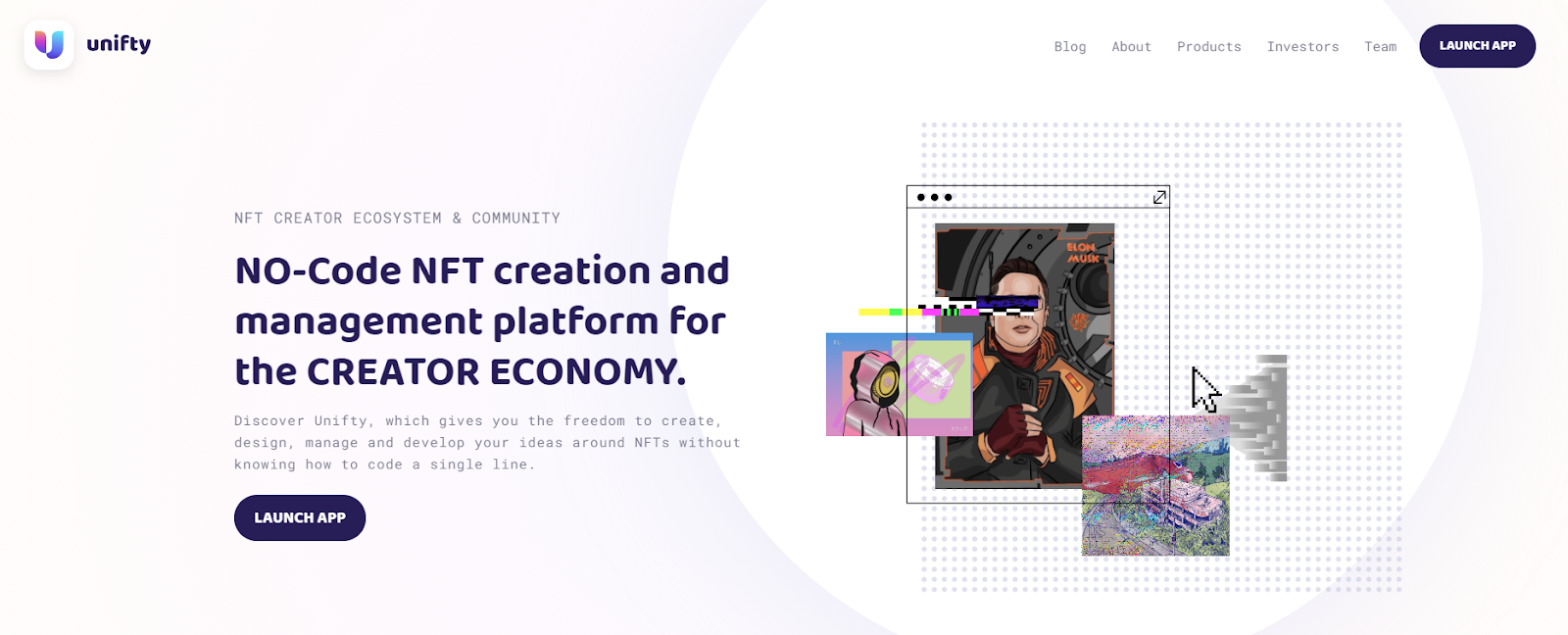 Governance Mechanism Gives More Power To The Community
Unifty, the no-code NFT ecosystem, has launched its proprietary community governance mechanism. Dubbed Unifty Community Governance, this new initiative will enable creators to get involved in the platform's development while allowing them to grow alongside the platform.
Following the substantial growth of the platform, Unifty's governance mechanism will allow NIF token holders to propose and vote on upcoming objectives aimed at helping the platform grow. With Unifty Community Governance, the platform's native NIF coin will now be purely a governance-centric token. Accordingly, the original NIF utility token, used for payments and rewards within the platform, will be transformed into the Unifty Network Token (UNT).
As per Markus Bopp, CTO of Unifty, "Decentralization should always be the answer in crypto. Maybe not right at its start, when the project is still young and its success is heavily reliant on great execution and the founding team's vision, but it should be the ultimate goal. This is why I'm incredibly excited to launch the Unifty Community Governance project and be able to 'walk the talk.' The Unifty community is amazing and we owe our success to them, it's only natural to give them the control they deserve."
The NIF tokens will manage four categories of governance proposals, including Grant, Vault, Internal Governance, and General Resolutions. These models will be activated after a minimum of 100,000 NIF has been staked into governance contracts. However, this value may be subject to change based on the governance process itself.
Each governance proposal will serve different purposes. For instance, 'Grant' represents all kinds of proposals involving minting and distributing UNT. On the other hand, Vault proposals are a part of the Grant proposals, as they will allow the community to modify the associated parameters in the smart contract for a particular Grant.
Community members will be able to propose and vote for modification of the default parameters of Community Governance, including minimum stakes, governance quorums, and time limits for governance actions, with Internal Governance proposals. Furthermore, General Resolutions will cover text-based proposals that don't impact the underlying smart codes and will be used mainly for polling and undertaking complex decisions for the Unifty platform.
A Fully-Featured NFT Ecosystem
Unifty supports multiple deployments across the most popular blockchains, including Ethereum, Binance Smart Chain, Celo, Polygon, and several others.
As a true cross-chain NFT ecosystem, showcasing hundreds of custom NFTs and NFT farms, and its other services, such as the no-code feature for minting NFTs, the NFT Bridge Service, the NFT Swap Service, and the NFT Marketplace, Unifty is well equipped to support the burgeoning 'creator economy.'
Thanks to countless features and a continuously expanding collection of tools, services, and Micro DApps, Unifty has established itself as the most accessible and affordable platform where creators can set up their collections, sell content, and grow followings.
Disclaimer: This article is provided for informational purposes only. It is not offered or intended to be used as legal, tax, investment, financial, or other advice.