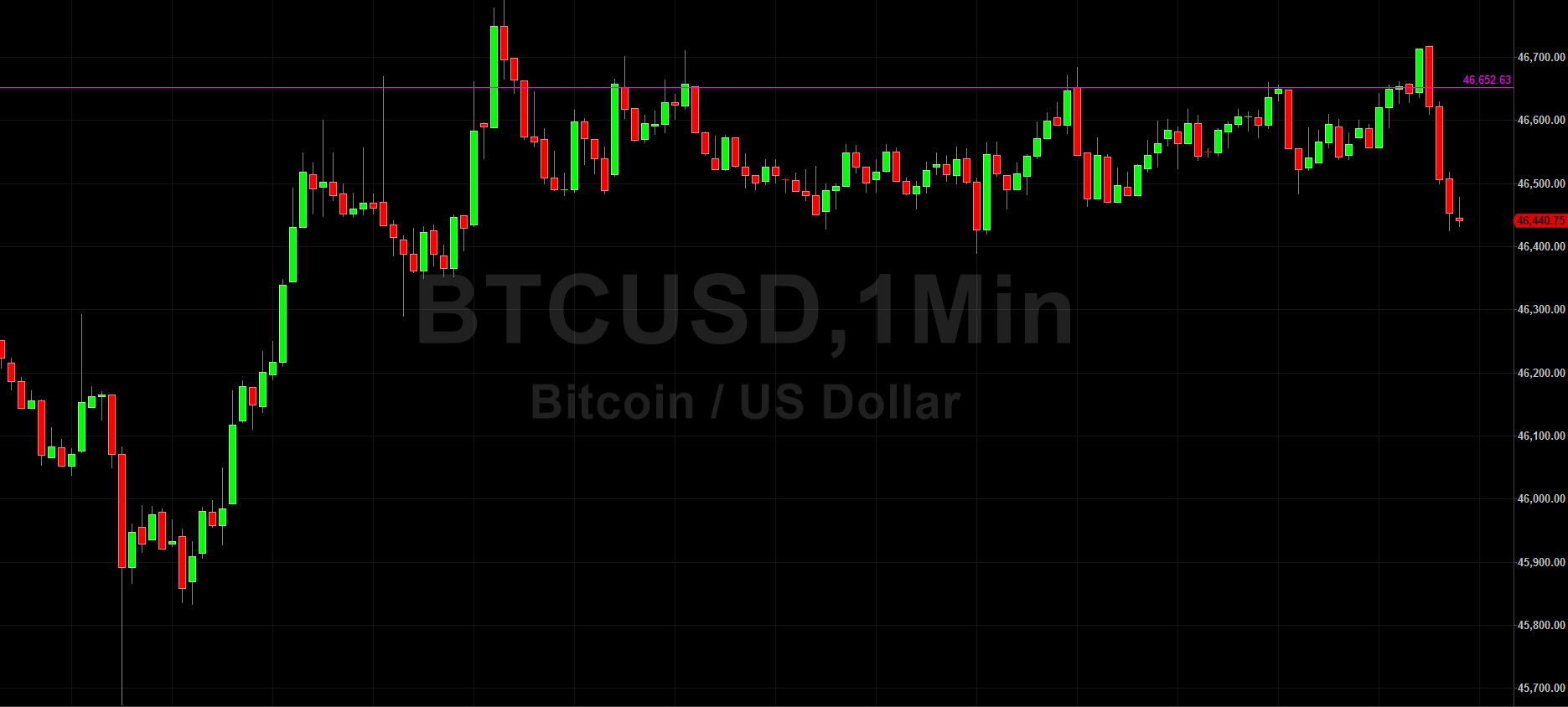 Bitcoin (BTC/USD) remained on the defensive early in the Asian session as the pair continued to be offered below the 47000 figure following its acute decline from well above the psychologically-important 50000 figure. Traders knocked ETH/USD as low as the 42880.77 area earlier this week after many significant Stops were elected during the tumble. The pair briefly spiked to the 47333 area during the European session before weakening to the 44423.49 area.
ETH/USD has closely orbited the 46652.63 level since the sharp depreciation, an area that became a downward price objective during the move on account of selling pressure around the 52944.36 and 48137.48 levels. Additional downside price objectives and areas of potential technical support include the 40360 and 32576 levels. Traders are observing that the 50-bar MA (4-hourly) is bullishly indicating above the 100-bar MA (4-hourly) and above the 200-bar MA (4-hourly). Also, the 50-bar MA (hourly) is bearishly indicating below the 100-bar MA (hourly) and below the 200-bar MA (hourly).
Price activity is nearest the 200-bar MA (4-hourly) at 47435.68 and the 50-bar MA (Hourly) at 49436.54.
Technical Support is expected around 42405.29/ 39903.28/ 37401.27 with Stops expected below.
Technical Resistance is expected around 53025.00/ 54088.38/ 55841.04 with Stops expected above.
On 4-Hourly chart, SlowK is Bearishly below SlowD while MACD is Bearishly below MACDAverage.
On 60-minute chart, SlowK is Bullishly above SlowD while MACD is Bullishly above MACDAverage.
Disclaimer: This trading analysis is provided by a third party, and for informational purposes only. It does not reflect the views of Crypto Daily, nor is it intended to be used as legal, tax, investment, or financial advice.