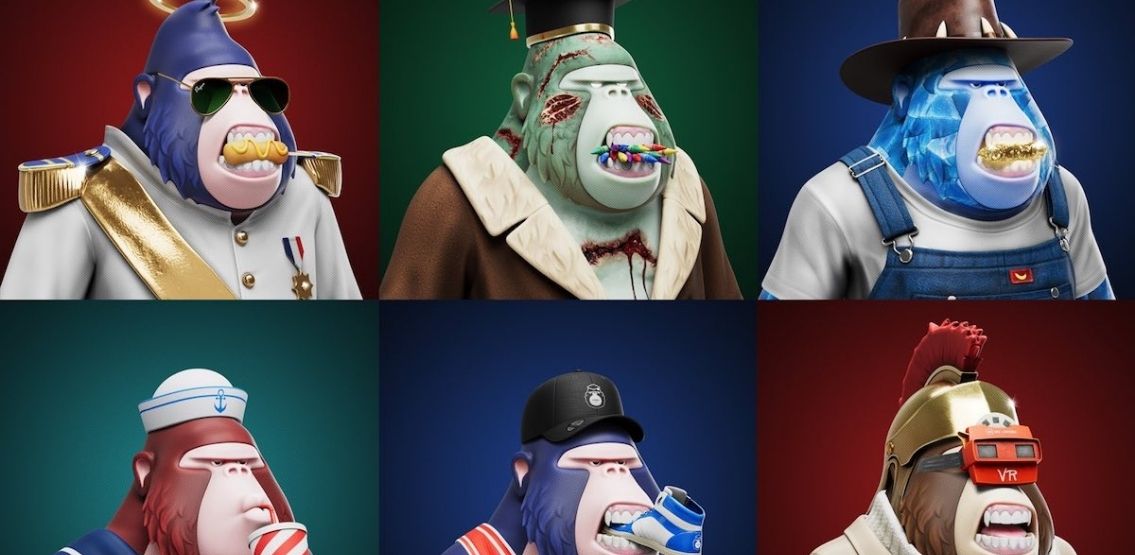 Solana's NFT ecosystem is thriving, thanks to the recently launched Degenerate Ape NFT collection that is raking in millions.
New Ape In Business
Looks like the ape NFT craze has still not faded. Following the success of the Bored Ape Yacht Club, a new collection, the Degenerate Ape NFTs, was launched on the Solana blockchain. The collection has hit the ground running as a London-based firm purchased the 13th rarest Degenerate Ape NFT on Saturday for a whopping $1.1 million. The NFT was the Degen Ape #7225, a scarred zombie version of an ape with a halo, a gold tooth, and a brain in its mouth. Moonrock Capital is a blockchain advisory firm, and they bought the NFT for 5980 SOL tokens. The firm has also invested in other Solana NFTs as well. For example, SolPunk, which is a Solana-themed version of CryptoPunks, was bought by Moonrock for 1388 SOL ($260,000).
This is the first sale on the Solana blockchain, which has crossed the $1 million mark. Previously the Degen ape #1674 had sold for 7,000 SOL. However, the value of the SOL token back then was not high enough to make it a million-dollar sale. Therefore this can be counted as the first-ever million-dollar NFT sale made on the platform. According to a Decrypt report, other Degenerate Ape NFTs in the collection have raked in a cumulative $1.7 million in sales.
Solana Inching Out Ethereum In NFT Space
NFT enthusiasts and prospective collectors are moving to Ethereum alternatives to build up their digital collection. NFTs have traditionally been associated with the Ethereum blockchain. However, the high fees have finally pushed several investors and NFT buyers to look into other platforms like Solana, Cardano, and Tezos to purchase NFTs at lower costs.
Solana, especially, has seen serious interest from celebrity investors like TV presenter Steve Harvey and YouTuber-turned-boxer, KSI, who have both picked a Solana Monkey Business NFT each. In addition, new marketplaces like Digital Eyes and SolSea are being launched on the Solana ecosystem to keep up with the rapidly increasing number of NFT mints. Plus, since the Aurory project, the minting process has become much smoother, thanks to Metaplex's Candy Machine.
This has definitely pushed the price of Solana's native SOL token to shoot up from $100 to $200 briefly and established it in the top 10 coins by market cap.
Disclaimer: This article is provided for informational purposes only. It is not offered or intended to be used as legal, tax, investment, financial, or other advice.