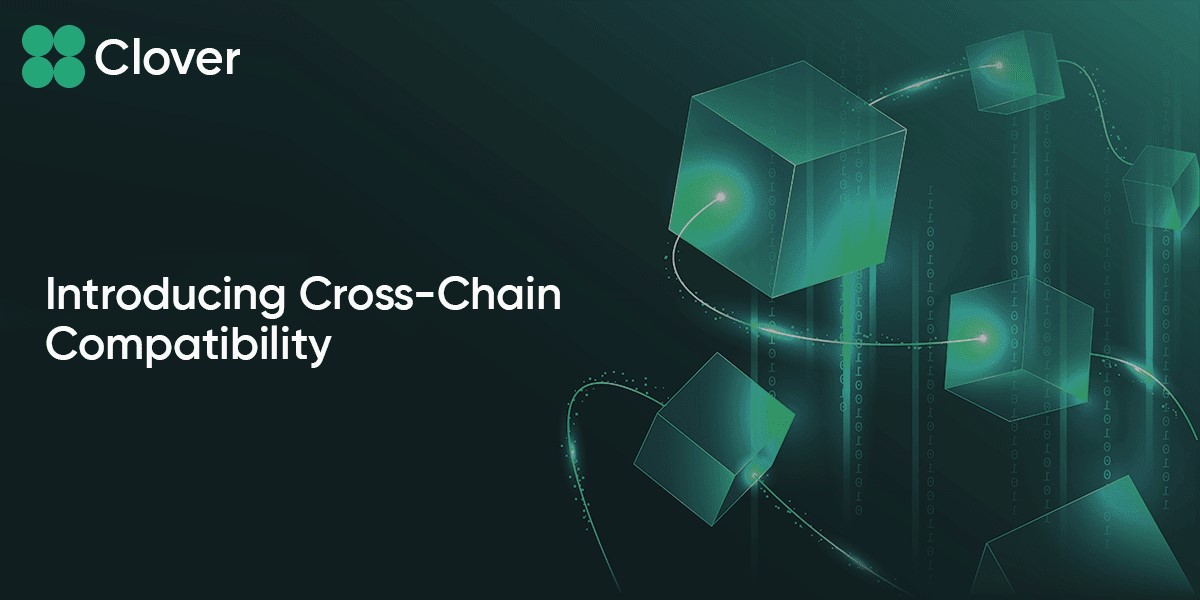 There are now more than 300 million cryptocurrency users and 18,000 businesses that accept crypto worldwide, per one estimate. However, a major barrier to worldwide adoption of digital currencies is the fact that there are many different popular blockchain smart contract platforms out there. Ethereum, Polkadot, Binance, Solana, Polygon, Fantom, etc. However, until now, these blockchains have not been compatible with each other. This acts as a fundamental barrier to cryptocurrency adoption because it is a major drawback to the user experience. A bold new project seeks to solve that - Clover Finance. Powered by Polkadot's cross-chain framework, Clover builds bridges of compatibility by acting as a foundational layer that connects different blockchains.
What is Clover?
Clover Finance is a blockchain platform committed to providing an easy-to-use, one-stop comprehensive infrastructure platform, with the goal of reducing the threshold and cost for developers.
Clover is a parachain candidate built on Polkadot's Substrate framework. It is able to provide a complete blockchain operating system, which contains:
Storage layer: This layer supports distributed storage of decentralized application (dApp) data.

Smart contract layer: This layer supports cross-chain deployment of dApps. Clover also provides a Web3-compatible API, and existing web3 dApps can be migrated to Clover without any change needed.

Defi protocol layer: This layer supports various basic Defi protocols and also provides a platform where developers can build their own Defi protocols. Also, Clover provides a drag-drop easy-to-use smart contract compiler.

External application (eApp) layer: This supports the evolution from dApp to eApp. Developers can build and deploy their eApp easily on Clover, without the need for machines, domain names, or network bandwidth.
Cross-chain Compatibility
Clover Finance has an easy-to-use multi chain wallet, which is now available with a Google Chrome extension, Mobile application, as well as a standalone Web Wallet.
The wallet supports many blockchains natively: Ethereum, Polkadot, Kusama, Binance Smart Chain, Avalanche, Fantom, and Solana. This allows DeFi users to seamlessly transact with the Clover extension wallet interface without the need to switch between wallets.
This brings an easier than ever cross-chain user experience into play, and that's just the beginning.
EVM Compatible Infrastructure
Clover has built an Ethereum Virtual Machine (EVM) compatible infrastructure so that existing dApps migrate from Ethereum and remove the problem of high transaction costs. Clover Finance has built an interoperable environment for various assets to seamlessly operate.
Relayers: Improving Cross-Chain UX
Clover has redesigned its networking layer to allow relayers. Relayers act on behalf of senders where relayers can cover gas price in the base currency, and receive compensation in the denominated asset. Thus, end-users can seamlessly transact their tokens by covering fees with the same token from the amount they transact, without depending on the base currency. This will make the overall user experience significantly better. Simplifying the user experience creates the potential for a very exciting future in which Clover can grow and compete, and can reach its goal of becoming the ideal DeFi platform for all cryptocurrency users.
Collab with Web3 Foundation
The Web3 Foundation funds research and development teams who are building the foundation of the decentralized web. Clover is collaborating closely with the Web3 Foundation through their Bootcamp and with many of the Polkadot parachain projects. Their plans are to jointly hold/support hackathons with Polkadot, the Web3 foundation and their ecosystem projects in the upcoming months.
Clover is currently live on public Testnet, with +20 uptime-running nodes across 4 continents. The public testnet is currently capable of processing over 500 TPS. Transactions are well-distributed and validated in less than 10 seconds.
Contact
Clover Finance can be located on social media below:
Website | Telegram | Discord | Twitter | Github | WhitePaper
Disclaimer: This is a sponsored press release, and is for informational purposes only. It does not reflect the views of Crypto Daily, nor is it intended to be used as legal, tax, investment, or financial advice