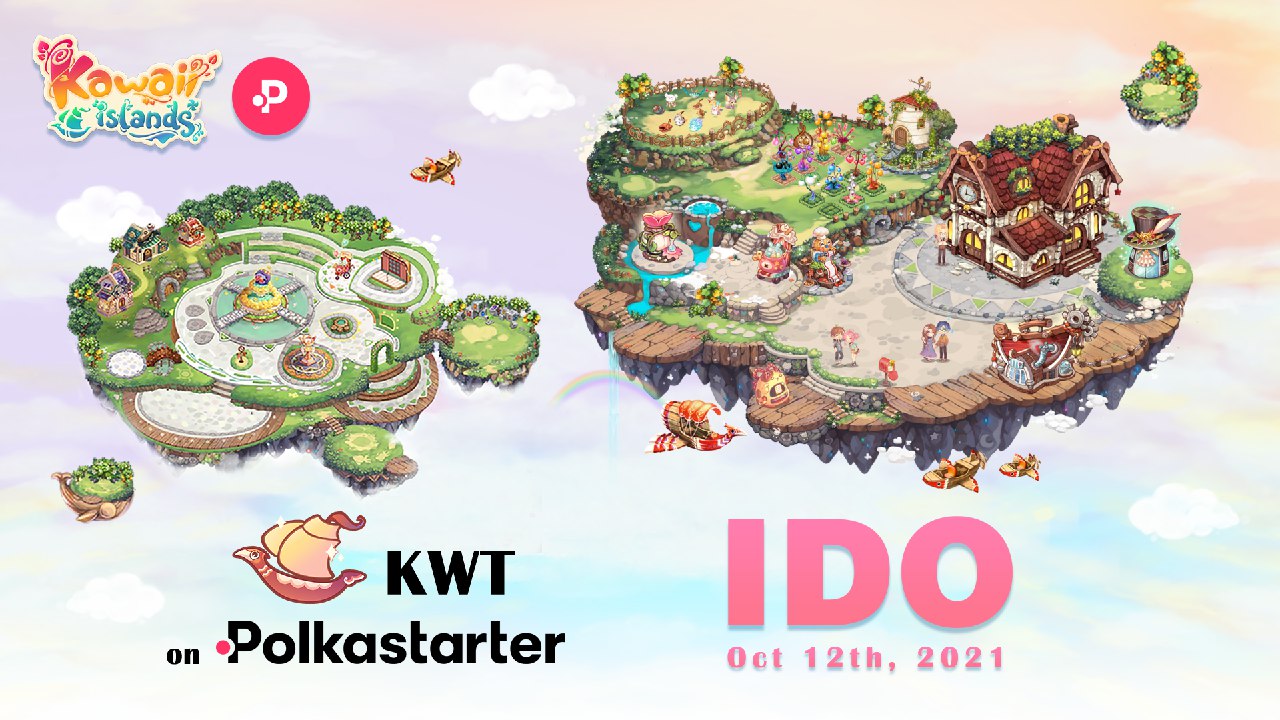 Kawaii Islands, the Anime Metaverse that's focused on gamifying the decentralized finance (DeFi) ecosystem, will be carrying out its initial decentralized offering (IDO) via Polkastarter.
The project's token sale is set to go live on October 12, 2021 and users may begin signing up for the whitelisting process very soon.
Blockchain gaming with a play-to-earn model has become increasingly popular this year. Kawaii Islands is notably the first Anime Metaverse to develop a simulation world for players so they can immerse themselves in interactive activities.
Players are able to explore various customization options, such as crafting, decorating homes, styling their favorite characters, and taking part in social networking. There are several different possibilities for customization, with more options to be introduced in the foreseeable future.
As explained in the announcement, Kawaii Islands isn't your typical NFT-related blockchain or distributed ledger tech (DLT) game. The game's Alpha version makes use of a temporary AIRI token - supported by Marketplace partner aiRight - in order to help with balancing the overall economy.
After the beta version released in October of this year, the native KWT crypto token will serve as the primary currency. But all assets from the Alpha version will still be preserved in the beta version, which should help with ensuring that players don't lose progress.
The KWT token is an important asset for Kawaii Islands, because it may be used as a governance token and has several other use-cases as well. Players are able to earn special rewards in KWT tokens, which they're able to use to pay for in-game fees.
By completing Delivery Orders via the Leaderboard, or selling and staking various items, users may earn additional KWT tokens, which are also used to craft and purchase items, skip out on lengthy waiting times, or even take part in key events.
The Kawaii Islands team confirmed that they'll be selling the KWT token via an IDO on Polkastarter, starting October 12, 2021. Tokens are to be listed at $0.03, and the total supply is capped at 1 billion KWT. You may access tokenomics details here.
As noted in the update, Polkastarter allows projects to acquire funding in a decentralized, permissionless and interoperable environment. It's also a backer of the Kawaii Islands initiative. The team further revealed that they'll be sharing more details on the IDO whitelisting process via Kawaii Island's official social media channels.
As mentioned in a release, the Kawaii Islands team has managed to sell out two separate presale events for 2,100 Starter Packs of game item non-fungible tokens (NFTs).
The team has also been able to acquire $2.4 million via private funding from crypto and blockchain industry investors, such as MapleBlock, Signum, AU21, SkyVision Capital, Master Venture, Polkastarter, Polygon, among others. The financial resources and industry know-how should help Kawaii Islands with connecting other anime games into an engaging anime metaverse.
As a joint initiative between Imba Games Studio and Oraichain, Kawaii Islands intends to balance gaming and blockchain development. The NFT-based play-to-earn business model aims to ensure that everyone is able to access the game and enjoy their experience without being required to make large investments.
As noted in the release, Kawaii Islands is a joint initiative between Imba Games Studio, an established game development studio with more than 14 million clients from 6+ years of game development experience as well as strategic partner Oraichain, the first AI-enhanced data Oracle and ecosystem for blockchain or DLT networks.
Kawaii Islands is a NFT play-to-earn game that aims to establish a fantasy universe on the Cloud for multi players so they can experience interactive simulation gaming - which includes designing, building, crafting, farming and social networking activities.
With exclusive NFTs Marketplace on aiRight, Kawaii Islands intends to develop a space where players are able to earn sizable profits while playing their favorite games.
As mentioned in the announcement, Polkastarter is described as the completely decentralized protocol for introducing new concepts or ideas. Their curation process and industry access allow them to provide the best new initiatives in blockchain and crypto-assets.
With Polkastarter, decentralized initiatives are able to increase awareness, establish a loyal community, and get long-term support. Platform users may take part in a secure and compliant environment and use assets within and beyond the existing ERC-20 token standard.

Disclaimer: This article is provided for informational purposes only. It is not offered or intended to be used as legal, tax, investment, financial, or other advice.