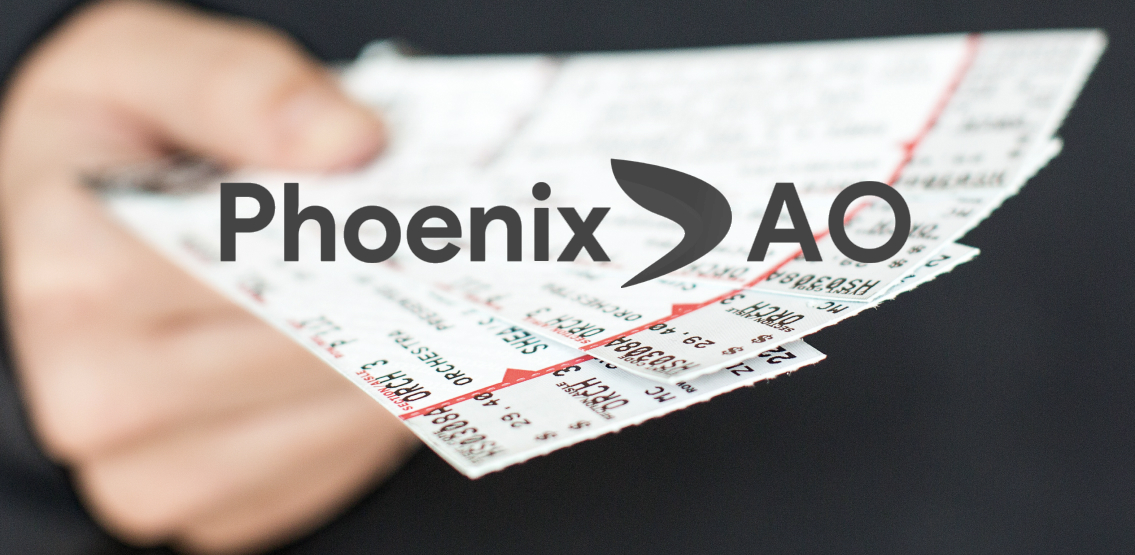 PhoenixDAO is one of a growing number of cryptocurrency projects that is on the road to achieving ever-greater decentralisation. Its Events dApp is disrupting an industry ripe for change, considering the amount of control wielded and the wide scope for malpractice that has existed until now.
Just as decentralised financed (DeFi) partly came into existence as an alternative to the excesses of the banking system, such as charging exorbitant fees on credit cards, PhoenixDAO has launched its decentralised Events Dapp that aims to disrupt the rigged and unfair playground that exists in the ticketing sector today.
The PhoenixDAO decentralised DAO
The one true way of making sure that no entity gains control and unfair advantage of any marketplace is to make it as decentralised as possible. PhoenixDAO aims to fill the void here by continuing to build out its ecosystem controlled by a decentralised community of stakeholders.
The Phoenix Foundation has allowed its project to become a self-operating decentralised autonomous organisation (DAO). At the heart of the DAO is an identity powered dApp store where a smart contract will deduct a small % from each transaction.
As the pool from the smart contract grows, and also as stakers of the PHNX token increase in numbers, the ecosystem can flourish as proposals can be voted on by PHNX holders who can then be eligible for rewards from the DAO pool. Those rewards are currently in the form of PHNX, but plans are to introduce ETH and DAI as the liquidity pool grows.
Issues with the ticketing industry
The issues within the events and ticketing sector are many and varied. To start with, counterfeiting of tickets is a major problem and results in the industry losing a huge amount of revenue.
Technologies have been built in an effort to try and eliminate this problem, and these include scanning equipment for barcodes, thermal ticket printing, watermarks and foil printing. However, all are expensive options, and none of them have been proved to make tickets 100% free from counterfeiting.
Bulk purchasing of tickets is another issue that is so unfair on those wishing to attend events, and who have to pay a big mark-up on the ticket price because some company or individual has bought a large percentage of the supply, to then sell on. The original ticket seller is probably happy that they have sold their tickets quickly and so is not incentivised to do anything about it.
Finally, unsafe and unsecure payment facilities still abound in this industry. There are primary ticket vending websites and establishments that many people know about and which are generally fairly trustworthy. However, not everyone knows about them, and there are many scam sites and less than trustworthy vendors out there.
The PhoenixDAO Events dApp
In the style of Eventbrite, but decentralised, and doing away with all the issues above. The PhoenixDAO Events dApp is the way forward for a completely fair and trustworthy ticketing sector.
It's the first platform built on the ERC-721 standard, which enables event organisers to issue NFT-based tickets for all the event types within the industry.
The use of NFTs means that each ticket is unique, allowing those issuing the ticket to program in various extra functionalities, and also allowing the ticket holder to transfer ownership if they so wish.
All the transactions involving ticket issuance, redemption, transfer of ownership etc, are 100% immutable, and viewable on the blockchain.
A PhoenixDAO/Transak partnership enables a fast and secure fiat onramp enabling customers to buy their tickets with credit or debit cards.
To learn more about PheonixDAO and its Events dApp please follow the hyperlinks.
Disclaimer: This article is provided for informational purposes only. It is not offered or intended to be used as legal, tax, investment, financial, or other advice.